In case you've forgotten. Hallowe'en (when referred to by its original Gaelic/pagan name "Samhain") is one of the four big witches' sabbats. What the other ones are, I have no idea, but they probably all end in "mas", "ane" or "fumblebum". Witchcraft outside of a closed society is a load of bullshit anyway.
But with the big day approaching, what better way is there to celebrate the non-event/non-holiday than with a top ten list of the sexiest witches I've ever seen?
Okay, so trying to stuff four bags of Funyuns in your mouth at the same time and then washing them down with Tizer is equally entertaining, but I'm a blogger and this is all I've got. Enjoy!
1.
Willow
(Britt Ekland) from "The Wicker Man" (1973)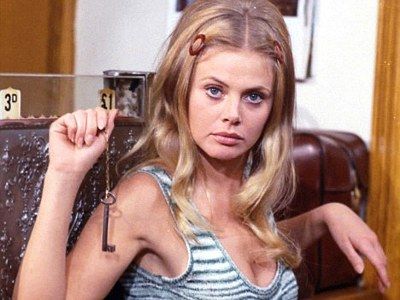 I honestly don't care if she's fully clothed, topless, or using a body double, Willow is the sexiest little witch ever! I would have kicked the bloody door down or smashed a glory hole in the wall if I'd been in Edward Woodward's place!
2.
Angelique Bouchard
(Eva Green) from "
Dark Shadows
" (2012)
I'd never even heard of Eva Green before I watched "Dark Shadows" last year, but as she's very unlikely to repeat her sexy performance in anything else, I don't suppose it matters. My God, she's hot! Angelique likes things a tad too rough to be my number one though.
3.
Mirror Queen
(Monica Bellucci) from "The Brothers Grimm" (2005)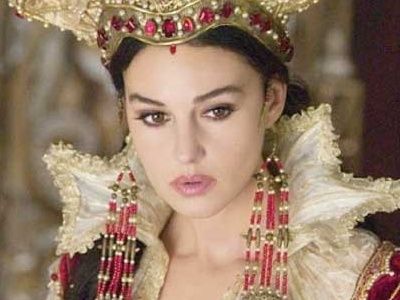 It's a pity that "The Brother's Grimm" is such a crappy movie apart from having the most beautiful woman in the whole world in it. There's definitely something supernatural about the way Monica Bellucci never ages.
4.
The Witch
(Cassandra Gaviola) from "Conan the Barbarian" (1982)
Back in the days of renting VHS tapes from Blockbuster, I wore the section with Cassandra Gaviola and Arnie out so badly by rewinding and pausing over and over again that they had to buy another copy! I only know this because they made me pay for the one I wrecked.
5.
Mater Lacrimarum
(Ania Pieroni) from "Inferno" (1980)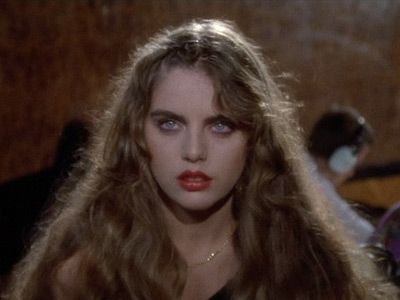 While it's true that I also like Moran Atias in "Mother of Tears" (2007) because she gets nude, I couldn't find a decent (SFW) picture of her online. Ania Peroni is equally sexy as Hell, plus she has a
cat
. Purrfection!
6.
Prue Halliwell
(Shannen Doherty) from "Charmed" (1998)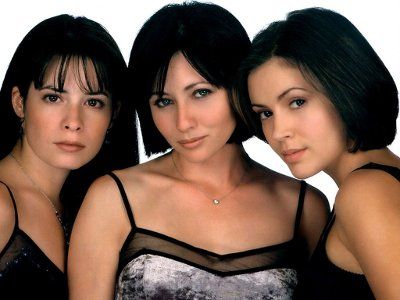 Since it's all about "The Power of Three" with the Halliwell sisters, I wouldn't turn any of them down, but Shannen Doherty (in the middle) is the one who really does it for me. I've watched every season of "Charmed" and still don't know the names of the other sisters!
7.
Willow Rosenberg
(Alyson Hannigan) from "Buffy the Vampire Slayer" (1997)
Ordinarily, Willow is a bit of a mouth-breathing drudge, but the day she turned into evil Willow, everybody perked up! It's hard to tell whether she's hotter as a
bad vamp
or a bad witch, but being bad is always good for Willow!
8.
Muriel
(Famke Janssen) from "
Hansel & Gretel: Witch Hunters
" (2013)
48-year-old Famke looks a bit worn here, but you can't deny that she's gorgeous for her age! That kinky black outfit with feathers kinda rocks too! She can keep it on or take it off, I'm hers either way.
9.
Bonnie
(Neve Campbell) from "The Craft" (1996)
The best bit for me is when she turns her hair blonde! "OMG, that's like so kewl! LOL" Neve Campbell looks fantastic as a blonde, but I couldn't find a screencap which didn't pixellate badly when resized. This is just the standard pretty Bonnie after her fizzog is fixed.
10.
Princess Asa Vajda
(Barbara Steele) from "
Black Sunday
" (1960)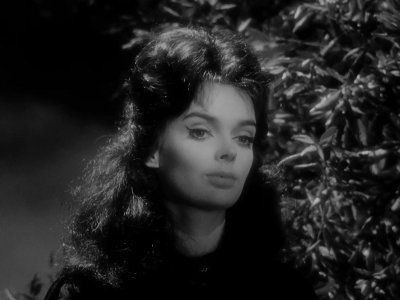 It was too difficult to find a photo of Barbara Steele from "Black Sunday" which wasn't scary-looking, so I gave up and used this one. It's not her sexiest moment in the film, but bizarrely, the bit where parts are falling off her is.
Just to make up a full coven of thirteen, here are three bonuses:
Bonus #1:
Circe
(Bernadette Peters) from "The Odyssey" (1997)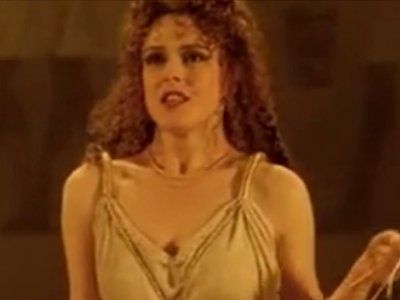 She gets between Armand Assante's knees and blackmails him into sleeping with her to save his men. I know that's the story of Odysseus and everything, but most of us wouldn't have needed such coercion. "Odysseus, the only way I will turn your soldiers back into men is if... you take me to bed," she purrs. Alrighty then.
Bonus #2:
Medea
(Maria Callas) from "Medea" (1969)
It's been so long since I've seen Pier Paolo Pasolini's adaptation of Euripides' play that I'd forgotten how beautiful Maria Callas used to be. From the IMDb: "It's a movie about a woman who beheads her brother, stabs her children, and sends her lover's wife up in flames. For Maria Callas, it's a natural." And yes, Pier Paolo Pasolini is the same director who made "Salo", in case you wondered.
Bonus #3:
Morgana Le Fay
(Helen Mirren) from "Excalibur" (1981)
When it comes to John Boorman's "Excalibur", it's usually Cherie Lunghi who floats my boat, but I can't deny Helen Mirren her finest hour either. Incest with King Arthur is only the tip of the iceberg when it comes to the sexual nastiness in Morgana's mind, and her scenes with Merlin (the late Nicol Williamson) are priceless. Let's say the "Charm of Making" together: "Anáil nathrach, ortha bhas betha, do cheol déanta..."
Who are your favourites? And why?