Sometimes I get asked why I hate French horror films so much. It's not that I hate them though, it's just that I find them severely overrated.
Thus, I now present you with my definitive list of the best French horror films ever made!
1.
Martyrs
(2008)
"A young woman's quest for revenge against the people who kidnapped and tormented her as a child leads her and a friend, who is also a victim of child abuse, on a terrifying journey into a living hell of depravity."
Ignore the intentionally vague ending which tries to be too clever for its own good, and this is top notch gore!
2.
Ils
(aka
Them
) (2006)
"Lucas and Clementine live peacefully in their isolated country house, but one night they wake up to strange noise... they're not alone... and a group of hooded assailants begin to terrorize them throughout the night."
One of the most realistic home invasion movies before "
The Strangers
" totally ripped it off, Americanised it, and replaced the scares with boredom.
3.
Eyes Without a Face
(1960)
"A brilliant surgeon, Dr. Génessier, helped by his assistant Louise, kidnaps nice young women. He removes their faces and tries to graft them onto the head on his beloved daughter Christiane, whose face has been entirely spoiled in a car crash."
A classic of French horror cinema which is only available in America as an overpriced Criterion DVD that I can't afford.
4.
High Tension
(2003)
"Two college friends, Marie and Alexa, encounter loads of trouble (and blood) while on vacation at Alexa's parents' country home when a mysterious killer invades their quiet getaway."
Alexandre Aja's gory ripoff of a Dean R. Koontz novel called "
Intensity
" but with a stupid ending tacked on.
5. Er... yeah...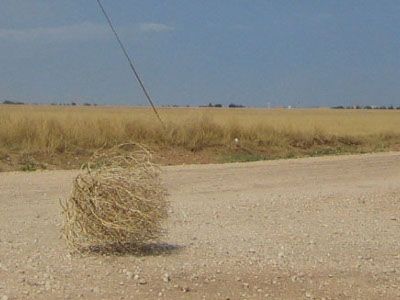 Regardez le tumbleweed!
So much for the French "new wave" of horror movies, eh?