The Fourth Shelf - part A
I'm getting there! Only this shelf and one more, and then I can get back to writing about something more interesting.
I'm past caring about the pictures. This one will just have to do. You can click on it to see it bigger anyway.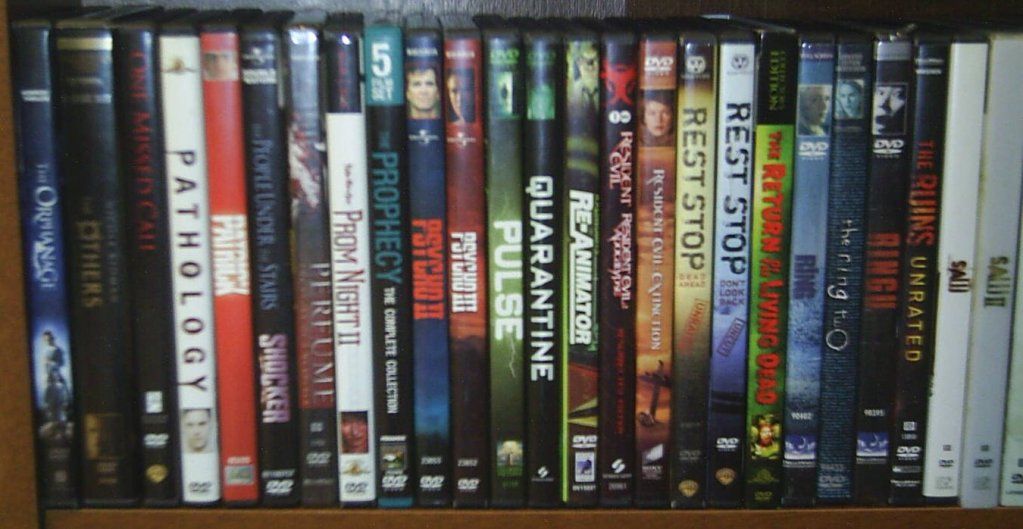 From left to right, because going from right to left would make no sense to me at all, these are the horror DVDs on the first half of the fourth shelf.
The Orphanage
Ah, the movie which introduced me to the pleasure of watching Belén Rueda. I'm not overly keen on Spanish films but this has the same look and feel to it as "The Others" which was also by a Spanish director. It was only $5 from Wal-mart so it was quite a bargain. I don't like the eco-case that it came in or the ending of the movie but such is life.
The Others
Directed by Alejandro Amenábar (who also did "Open Your Eyes") and starring Nicole Kidman, "The Others" is possibly my favourite ghost story of the 21st century. This is the bigger boxed "Dimension Collector's Series" version with 2 discs and came from FYE's used section. I think it was only $5 as well.
One Missed Call (remake)
I don't know why this is out of alphabetical order. I was probably going to watch it and then put it back again in a rush. I still haven't finished it in spite of half a dozen tries so I'm getting my money's worth out of this pawn shop purchase.
Pathology
This came from a yard sale for $2. I never did finish watching it because it reminded me too much of the "Anatomy" movies and I got bored with it. One day, I'll give it another chance.
Patrick
My favourite Australian horror movie apart from "The Loved Ones". Of course, it tried to cash in on the success of "The Medusa Touch" from the same year, 1978, but it's a little bit different and has Susan Penhaligon as a sexy nurse in it. This was from the pawn shop but I think it started out as part of an Aussie Horror Collection box set from FYE. I'm sure the other three films from that set will turn up eventually.
The People Under The Stairs / Shocker
I've never seen "Shocker" but the first film of this double-feature is the only reason I bought it anyway. Originally sold by Wal-mart but from my local pawn shop for $2.50. These are both very '80s horror movies. Yes, I do say that as if it's a bad thing.
Perfume: The Story of a Murderer
I couldn't believe that I was lucky enough to find this at Big Lots for $3. It's not strictly a horror movie and is several classes above what I usually watch for entertainment. I don't know why this didn't get more promotion when it came out as it's a beautiful film.
Pet Sematary is missing!!! I don't know where it has gone.
Phantoms is in my R1 folder.
Prom Night II: Hello Mary Lou
I think this is the best of the "Prom Night" series. I never liked the first "Prom Night" and I only have the third and fourth ones on VHS because they are pretty weak as well. I got this in Big Lots. I wonder what happened to Lisa Schrage? She was the only reason I wanted this, of course.
Prophecy - The Complete Collection
All five "Prophecy" or "God's Army" movies for $5 from Wal-mart's bargain bin! Even better than that, I got this from the pawn shop for $2.50! It's not so much of a bargain now that I've seen all these movies plus the six "Hellraiser" sequels in an "11 movie pack" for $7.50 at Kmart. Echo Bridge keep bringing these things out. I still want the "Dracula 2000" triple pack.
Psycho II
Basically, Meg Tilly is in it. I have "Psycho" and "Psycho IV" on VHS but might upgrade if the price is right. This and the second sequel came from the pawn shop but they were also on sale at Big Lots along with a triple pack with "Psycho IV" in it as well. I almost bought it but there are some movies I like to have separately. I have my reasons and most of those involve my loathing of flipper discs.
Psycho III
Anthony Perkins directed this but it's a horrible movie and not nearly as good as "Psycho II". I might sell this in a yard sale after I've swapped the case with one of my scruffier DVDs.
Pulse
This is the 1988 film with Roxanne Hart in it not that awful Japanese crap or the remakes about internet ghosts. I got this from Big Lots and was really pleased to get it too. It's a really underrated sci-fi/horror along the same lines as "Maximum Overdrive" but with electricity having a life of its own. Roxanne Hart is hot in it too (both literally and figuratively).
Pumpkinhead is in my R1 folder.
Q - The Winged Serpent is in my R1 folder.
Quarantine
It's almost identical to the Spanish version but without all that foreign language. The ending is a little bit more supernatural with "[Rec]" but it's a scene by scene remake. I just have it on the shelf to fill the "Q" spot. It came from the pawn shop anyway.
Re-animator
You may have expected "Rawhead Rex" to be here but I got greedy and sold it for a ridiculously high price. It's not as if I haven't got another copy in my R2 folder anyway. So, yes, my "R" section now starts with "Re-animator". This is the full version from Anchor Bay (although not the one from the pack which came with a syringe-shaped highlighter pen). I got it new from FYE but I don't remember how much I paid.
Resident Evil / Resident Evil Apocalypse
Sort of horror and sort of only purchased by me because I fancy Milla Jovovich. I'm not ashamed of it. Sometimes I buy films just based on the actress (actresses or actors) involved. I was really pleased to get this from the pawn shop because I'd been looking for this double-feature ever since I missed out on it at Sam's Club.
Resident Evil: Extinction
This is the best of the Resident Evil movies. Lots of action, zombies and some good characters. I actually bought this one first from the pawn shop only a couple of weeks after it was released.
Rest Stop: Dead Ahead
I have no excuse for keeping this turd in my collection except that I got it for $2 from a pawn shop which no longer exists. I actually bought the sequel from the same place first and then went back and got it.
Rest Stop: Don't Look Back
I didn't realise that this was a sequel and only bought it because I was MySpace friends with Jaimie Alexander. She wasn't even in this film! If you don't know who she is, she was "Sif" in the "Thor" movie. You're still none the wiser, are you?
The Return of the Living Dead
I got this through a trade with someone who does a podcast. He wanted "Inside" pretty desperately (and I didn't want it at all) so we swapped. This edition has a "glow in the dark" cardboard slipcase. I like this movie a lot and it was the first zombie film I ever saw theatrically back in the '80s.
The Ring (remake)
Where did I get this? Oh yes, the pawn shop. It was still sealed so I grabbed it. I later discovered that it was the full screen version but I don't really care. I've already seen it at least five times and I'm still alive.
The Ring Two
This is the unrated edition. I don't know if I've seen that version or an R-rated version but it was still pretty weak. I just got it for completeness and I think it came from Big Lots.
Ringu
I still haven't watched this DVD because someone posted all the "Ring" movies on YouTube and I watched them there. It was $3 from Big Lots and it's a pretty good movie even though everyone knows the story now thanks to those "Scary Movie" idiots.
Rosemary's Baby used to be here but I sold it.
The Ruins
With hindsight, this was one of the better horror films from 2008 but I thought it was silly at the time and probably gave it a scathing (and very brief) review. I'll have to watch it again when I'm ill or something and see if it improves. This is yet another movie where I can't remember where I bought it from. It may have been $5 of my store credit when I did my big DVD exchange.
Salem's Lot is in my R1 folder.
Saw
My "S" section only starts with "Saw" because I bought "Salem's Lot" on one of my previous trips to the States, took it home to England, and then brought it back in a Case Logic folder without the cardboard case that it originally came in. I don't even want to talk about "Saw". I bought the first four "Saw" movies all in one go from a pawn shop a few miles away. They had put together packs of them at the time, so I ended up with a mixture of full screen and widescreen unrated versions for $10. "Saw" and "Saw IV" turned out to be full screen versions but I don't care since I'll never watch either of them again.
Saw II
Yeah, Shawnee Smith is pretty and this movie has all the good traps, but it's not something which I feel like rewatching ever. I just keep it to show my support for the "Saw" franchise or something. Actually, I do feel like watching it again right now which is odd.
I'll continue the shelf, starting with the rest of the
Saw
DVDs, later today. I'm quite pleased with myself now for getting this far and I can see finally see light at the end of the tunnel. The weather is even cooling down a bit now (at least at night).
Now I realise why people don't do things like this on blogs. It takes ages to list all these DVDs. It will be a very long time before I'm ever silly enough to go through my other five bookcases but I'll never need to since I only have action movies, thrillers and girlie dramas on those.