As much as I hate doing these top ten lists (since this is Blogger not Tumblr) and it's ridiculously difficult to find any good quality pictures online, it's almost Caturday again, the weather is still ridiculously hot, and this is the best I could come up with.
I creeped you all out last week with my top ten
catladies
and, so, because I know how you all love looking at pictures rather than reading my movie reviews, here's a list of my favourite and sexiest catgirls.
1.
Suzanne
(Bobbi Sue Luther) from "Night of the Demons" (2009)
Does this choice really need any explanation? Bobbi Sue Luther exuded sexiness as a catgirl in the "Night of the Demons" remake, and I'm a big fan of her work. She was also great in "Laid to Rest", but she's never going to surpass this moment for me unless she dresses up as a catgirl again.
2.
The Catwoman
(Lee Meriwether) from "Batman: The Movie" (1966)
Everybody has their favourite "Catwoman" (some people even like the Marvel version called "Black Cat") but, for me, the pick of the litter was Lee Meriwether in the "Batman" movie which used most of the cast from the TV series. Lee Meriwether was the first version of Catwoman I ever saw (since I watched the movie before the TV episodes) and she was perfect.
3.
Lily
(Diora Baird) from "Night of the Demons" (2009)
Back to "Night of the Demons" again, I was spoiled by having two catgirls in it. I really liked Diora Baird, I also liked her in "30 Days of Night: Dark Days" and "Stan Helsing" (yes, I watched it and enjoyed it!). If it wasn't for Bobbi Sue Luther, I'd probably have a little catgirl crush on Diora. Her costume needed slightly bigger ears though. Yes, I do mean ears.
4.
Catwoman
(Anne Hathaway) from "The Dark Knight Rises" (2012)
I haven't even seen this movie yet, but I already know that I like Anne Hathaway so it was easy to add her to the list. The outfit looks pretty sexy to me although I'm not entirely convinced by the ears. I think they may be sound amplifiers or radios of some kind.
5.
Catwoman
(Julie Newmar) from "Batman" (1966)
She was the longest running Catwoman in the TV series and appeared in 13 episodes between 1966-67. I hadn't even been born when she was famous, and it was at least 14 years later before I eventually saw the reruns. I know Julie Newmar is still the most popular Catwoman for "Batman" fans, but she was a little bit too camp for me to place her any higher in the list.
6.
Eenie
(Sharyn Wynters) from "Batman" (1966)
Also from the "Batman" TV series, Sharyn Winters played one of Catwoman's evil henchmen (or henchwomen? Henchgirls? Maybe "henchcats"?). She didn't do a lot in "The Cat's Meow" except look all sexy in leopardskin print, but it was enough for me. She was also briefly in "Westworld", but not, alas, in any feline capacity.
7.
Irena Gallier
(Nastassja Kinski) from "Cat People" (1982)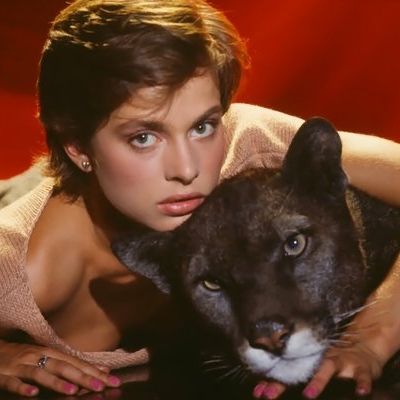 Back to the horror movies, no list of catgirls would be complete without Nastassja Kinski's version of Irena from the 1982 remake of "Cat People". She's a little bit androgynous, but she scores higher than Simon Simone from the original for not only getting nudie in the movie but also for daring to pose in a publicity shot with a real big cat.
8.
Irena Dubrovna
(Simone Simon) from "Cat People" (1942)
Having appeared in both of the "Cat People" movies (although as a ghost in "The Curse of the Cat People"), Simone Simon has to be on the list even though she wasn't really as sexy as her co-stars. In fact, the original Irena character alternated between being a bit of a tease or quite frigid due to her curse. I also found a picture of her with a panther mural behind her, but I chose this one because she looks as if she's scratching at the door to be let out.
9.
Abbie
(Patricia Rodriguez) from "Night of the Demons III" (1997)
Yes, I know she seems a lot plainer in this picture than the others do in theirs, but Abbie really blossomed over the course of the film. She was supposed to be nerdy to begin with and this is a still from just after she removed her horrible glasses. Trust me, she got a lot sexier before eventually being transformed into a cat-demon.
10.
Catwoman
(Michelle Pfeiffer) from "Batman Returns" (1992)
This will cause some trouble, but Michelle Pfeiffer is my least favourite Catwoman apart from Halle Berry and Eartha Kitt. I've liked her in other films but her version of Catwoman was just a little bit too psycho for me, and I thought she was much sexier as Selina Kyle. I also didn't really like the black leather sofa all cobbled together with big ugly stitches as a costume. I blame Tim Burton's artistic vision for this as everything has to be a fairytale for him. I'm really not keen on any of his movies.
Bonus:
Liana
(Katie Saylor) from "The Fantastic Journey" (1977)
I couldn't find a way of including the telepathic Liana in the top ten because, in spite of a false memory I had, she never actually turned into a cat or dressed as one. Although the late Katie Saylor was very feline in appearance, her character had a pet cat who she communicated with which really made her into more of a a futuristic witch than a genuine catgirl.
Can you think of any catgirls who I've left out?