Don't judge me! I know I'm addicted. It's 79 degrees outside and a thunderstorm is ready to break any second so I thought I'd show you what I picked up a couple of hours ago from the pawn shop.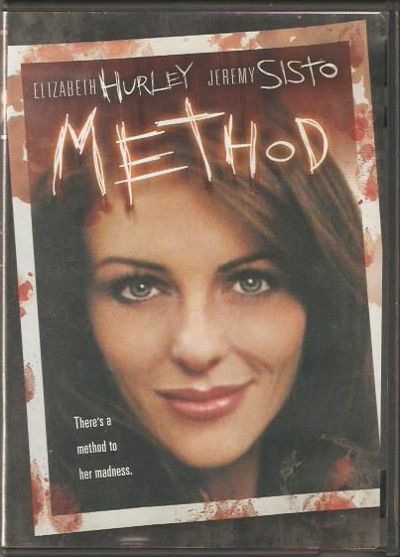 She may not be the greatest actress in the world but Elizabeth Hurley is uber hot. I was hot too (and sweating my ass off) when I arrived at the pawn shop especially when this was staring me in the face. I have no idea if "Method" is any good or not. I expect it's horrible but it's about a serial killing actress from what I read on the sleeve so it might be alright. Even if it turns out to be complete and utter crap, I'll still keep it for the picture.
Moving on to the real horror finds, I finally bought "The Butterfly Effect" collection. I watched the third (extremely crappy) film on that "After Dark Horrorfest III" set which I got earlier and was disappointed, but I've heard good things about the first film in the series and I don't find as much wrong with Ashton Kutcher as other people do. Alright, so he married one of
my celebrity crushes
but that doesn't make him a bad guy. Whether he can act or not is another matter.
The "Children of the Corn" double feature had been haunting me for some time because I used to have all the sequels on VHS. There's not much left in the horror section now so it was worth it for $1.25 per movie.
To complete the "4 for $10" deal, I became "Mr Hypocrite" and got a copy of "
The Strangers
". It says that it's "Unrated" so, presumably, one of the major differences will be that Liv Tyler changes her expression from constipated to almost constipated more often in this one. I saw the movie theatrically and vowed never to buy it but you should never say "never" when pawn shop bargains abound. Why did I buy it? Because it was there. Yes, I do know what I did there and it was intentional.
I went over the $10 budget this time to buy "Witchcraft 13". Years ago, I interviewed
Zoe Hunter
, my MySpace friend, who acted in this terrible thing. I've only ever seen the first two "Witchcraft" movies on VHS back in the early '90s so I have no idea what this will be like, but, judging from the sleeve, it's also going to be low-budget, handycam crap of the highest order.
Did I stop there? No, of course not. Once I'd broken into the second $10 batch, I also picked up a copy of "Alien" to replace the UK one which was the first DVD I ever bought (and is famous for the errors on it due to a manufacturing defect). You don't need a picture of it, it's just the same green alien pod on a black background as every other "Alien" DVD in existence.
Finally, I bought "The Gift" (which is actually going to be a gift for someone), and "The Rock". I don't just collect horror movies and Sean Connery is awesome.
Apart from dozens of copies of the "Saw" movies, there are now only two horror DVDs left in my local pawn shop, "
Trackman
" and "
Dark Floors
" from the "Ghost House Underground" collection. I've seen both and didn't really like them (or any of the "Ghost House" movies) so I won't bother going back for a little while now.
I've left horror DVDs behind many times before (including anything by Eli Roth) and nobody has bought them for months. There's a damned good reason why certain titles end up in the pawn shop in the first place. I've never had a scratched up or faulty DVD from the place but I've bought some truly terrible movies.
Have you got anything good lately? How is your own collection coming along? Is DVD collecting a harmless hobby or a sickness? Leave me your comments below.