"Learning by accident that Mrs Jessel, a former dance teacher of repute, supposedly possesses a treasure somewhere in the house, Lucy and friends William and Ben decide to search the house in the hope of finding it."
Ok, now that the Eurovision is over for another year. it's time to get back to the horror movies. But, since I'm still in a European frame of mind, I decided to watch a little French vampire movie called "Livide".
Directed by Alexandre Bustillo and Julien Maury, who were responsible for one of my most hated horror movies (or rather "idiot plays") of all time, "
À l'intérieur
" (2007), I wasn't expecting a lot of "Livide". It turned out that my gut feeling was right about this too.
First, the good bits. The two Chloés, Chloé Coulloud (as Lucie) and Chloé Marcq (as Anna), were mostly lovely to look at and could even act a bit. Alternatively, Marie-Claude Pietragalla (as Jessel) was terrifying to look at and was almost as iconic as the black-dressed Béatrice Dalle who you all remember from that other piece of crap (and briefly appeared in this too).
Everything about the setting was very creepy, the designers obviously put a lot of thought into that part, and the make-up was really good. I also liked the naming homages to "The Innocents" (1961) and "
An American Werewolf in London
" (1981).
Unfortunately, after the start which seemed to be setting things up for a French version of "
The Collector
" (2009), things started to go downhill rather quickly.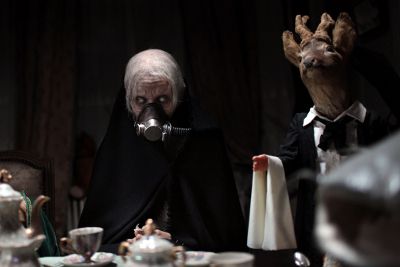 Basically, it was like four or five different stories (which have already worked on their own) were squashed into one film. This wasn't quite as bad as Neil Marshall's "
Doomsday
" (2008), but it wasn't far off.
The pacing of the film was very uneven, everything was more than a little bit confused, and, for, someone like me who likes to take regular toilet breaks, it took a few rewinds and a second watch to work out what was going on.
There were a couple of gory moments which were nicely done but "Livide" didn't turn into the over-the-top bloodbath of "À l'intérieur". It had a better atmosphere and was about a hundred times scarier than "À l'intérieur" too but that's not saying much since "À l'intérieur" wasn't scary at all.
I think the biggest problem was that "Livide" tried to be more of a fantasy than a real horror movie but, due to the vampire element and homaging at least one very famous Asian horror movie (and an even more famous Italian one), the directors couldn't help themselves from using many tropes which didn't really fit in. I'm not going to spoil it for you by telling you where and what they were but you'll spot them easily enough should you decide to watch this anyway.
I don't recommend "Livide" because it was too flawed and the ending was too ridiculous to leave me feeling satisfied with what I had just seen. I didn't completely hate it but it's not something I would rush out to buy.