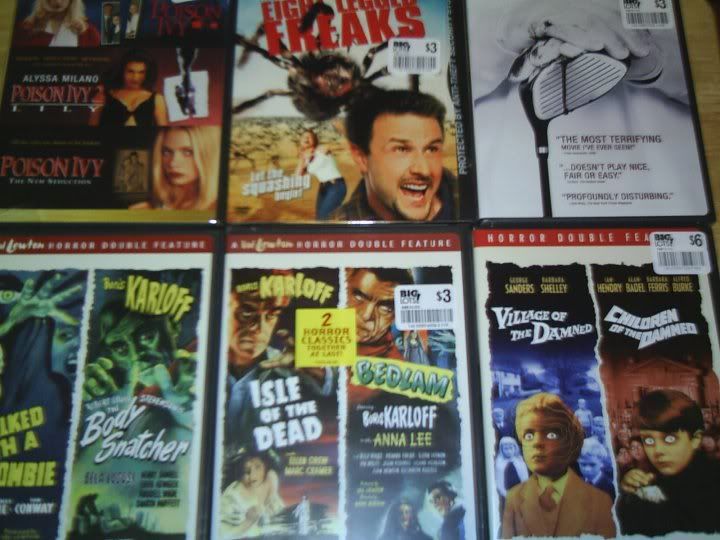 Yes, the double and triple features are back in Big Lots! Plus there are a lot of the older horror titles still floating around for $3.
Tonight I saw $6 double features of "The Lost Boys/Lost Boys 2: The Tribe", "It/The Shuttered Room", "Gothika/Queen of the Damned", "Ghost Ship/Dreamcatcher", "The Lawnmower Man/Lawnmower Man 2: Jobe's War", and triple features of "Psycho II/Psycho III/Psycho IV: The Beginning", "It's Alive/It's Alive II/It's Alive III: Island of the Alive" and "Poison Ivy/Poison Ivy 2/Poison Ivy: The New Seduction". Yes, I do know how bad the latter movies are.
The "Val Lewton Horror Double Features" have been around for a while but some of them are starting to be marked up to $6 to match the other horror (really Sci-Fi) DVDs of "Village of the Damned/Children of the Damned" so be careful which ones you take to the checkout. They still don't have "Cat People/Curse of the Cat People" so don't waste your time looking.
As you can see, I bought a few DVDs tonight. I have no intention of even watching the "Funny Games" remake and I only bought "Eight Legged Freaks" because it has been sitting taunting me for the last two years. I probably won't watch it either but at least I never have to see it in Big Lots ever again. :)
I'll add the new titles to "
The Big Lots Horror DVD Master List
" later.