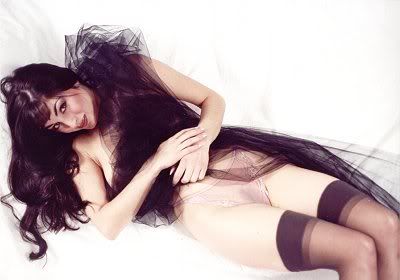 Tina Krause has a rare combination of beauty, intelligence and talent which is rarely seen in 'B Movies'. Since 1994, she has made over 80 of these underground classics (including TITANIC 2000, I AM VENGEANCE, THE VAMPIRE'S SEDUCTION, BLOODLETTING, ANIMAL ROOM, EVIL STREETS, AJA, PSYCHO SISTERS I & II, CRIMSON NIGHTS, VAMPIRE'S CURSE, POETIC SEDUCTION and the HBO production MONTANA) and has very much become one the most recognised faces (and bodies) of the genre.
No matter what she plays, whether she is the victim, the seductress, a vampire, or killer, to name only a few parts, Tina often shows a talent for comedy. Some great facial expressions, especially her captivating smile, help her to win over the audience so that even if she plays a bloodsucking vampire, it is Tina rather than the hero or heroine who we want to win the battle of good versus evil.
Tina can prove that she is also much more than just a pretty face. Not only is she a graduate of the School of Visual Arts with a degree in Graphic Design and 3D illustration but she also designed an art piece that was showcased at one of New Jersey's finest museums.
Having been featured in various genre magazines such as SHE, FEMME FATALES, DRACULINA, SCREAM QUEENS ILLUSTRATED, FANGORIA, VAMPEROTICA, ALTERNATIVE CINEMA, COLD SWEAT, COOL TOYS and POW, she has also worked as a model for Azimuth Designs, a book called "Goddess of Decay", and has appeared in the fashion section of the New York Times.
Tina considers one of her best film roles to have been in "I AM VENGEANCE". She says, "I play this girl who is just out there. I have fun with nothing, like she could just have fun with a blade of grass. She's totally involved in her own world, and she talks really avant garde. She is really extreme. You wouldn't understand, you'd be like, 'What the hell is going on with her?' And some parts of it make her really fun but you'll also see her lose it. It's really, really evil."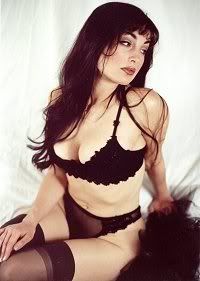 Tina has built up quite a body of work while, for the most part, holding down a full time job in the graphic arts field at the same time. To say that there's always a lot going on in Tina's life would be an understatement...
Since joining the Screen Actor's Guild, she's had to retire from doing 'B movies' and is now directing, producing and writing her own films. Tina's own production company, FRACTURE FILMS, is about to debut her latest release entitled "LIMBO". Having seen the distrubing trailer for this movie, I can assure you that it is well worth waiting for.
Tina is currently developing an original science-fiction adventure featuring a sexy and cunning heroine. Once finished, Tina hopes to publish a comic version of the story and produce her very first cast resin model kit of the title character.
Even with all these projects, Tina always takes the time remember her fans. I am told that she is one of the most approachable actresses you will ever meet and she is certainly very generous. With her wonderful personality and talent, Tina deserves to go even further.
Exclusive to Dr Blood's Video Vault
An interview with Tina Krause
(Date: Sat, 5 Aug 2000 13:10:53 +0100)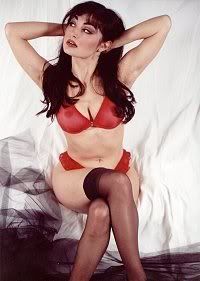 Having just got back from filming a ghost documentary in New Orleans, Tina Krause kindly agreed to answer a few quick questions for me. Without further ado, here's what she had to say...
Who inspires you the most?
Hard question but I have an answer - the people who challenge me and don't believe I can finish or even make a film, and David Lynch.
If you could have been in an old movie, which film would it be, which character would you have wanted to be and why?
I swear I don't know. Maybe an old Dracula hammer film and I would like to play the innocent victim because I would love to know how they were treated or worked on set. Or maybe an Ed Wood movie, any role, I don't think it would matter. I just think that that had to be one of the funniest sets to work on.
What advice would you give an aspiring actress/actor?
Don't give up! Oh and keep your day job.
Who do you think is a good actor/actress and who do you think is the most underrated?
Gary Oldman - for both questions.
Having done quite a bit of nudity in the past (to say the least!), have you ever felt uncomfortable with it or do you wish there was far more of it? What is your favourite outfit or costume?
Oh yeah, I just love being nude all the time, don't you? Who invented clothing... what was he thinking???!!! The question here should be... Do you have a problem dropping your pants for the world to see? People always ask this question and I have to say that I always wanted to retort with "Okay I'll do the scene topless for ratings if you'll take you pants off so that I fell more comfortable while we shoot, deal?" - naturally that never works. I wish there were less nudity so that I knew people were actually paying attention to the story instead of the pair of knockers on that chick. It would also force directors and writers to have better scripts. I don't have a favourite costume because I never get to wear any clothes dammit! But if I could choose a costume it would have to be something in "Eyes Wide Shut" with all the masks and feathers ...love that mardi gras look.
Do you wish that the films you have been in had a bigger budget and were more high profile or is there something cosy about the b-movie genre for you?
Yes, I wish they were bigger budget and higher profile. More on the higher profile end. Low budget is okay as long as the story is good and the roles are intense. I have worked on some really good low budget B films and I can't wait till they finish editing so I can see it.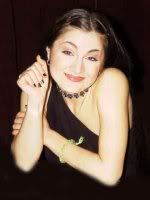 Out of over 80 films, which do you consider to be your best performance(s)? Which would you recommend your fans to buy if they wanted to see you at your best?
Oh boy... um... Machines of Love and Hate, The Pump Boys, Aja, The Terrorists, Titanic 2000, Evil Streets, I Am Vengeance, there are more but I can't remember all the titles.
Which has been your most disappointing performance and why? And which has been the worst film... Psycho Sisters, perhaps?
Oh, your funny! Well, its not so much the worst performance because a lot of those films do not lend themselves out to be performed. But there is a film worse than "Psycho Sisters"... say it isn't so... "Strangled" that is the worst that I can remember.
Do you wish you were taller or do the best things really come in small packages?
Hehehe, what do you think?
If you were to be given a million dollars right now, what would be the first thing you'd do?
Holy Shit... Hide it, then figure out how I can use it to make another million and then take the longest vacation ever.
If you were a household appliance, which one would it be and why?
Your TV. I would embed subliminal messages in your head... watch my movie, buy my movie, fund the next one heheh.
I'd be able to speak to the world that way. Hey, maybe I could rule the world... just kidding.
What are your favourite sites, and how often do you surf the net?
I don't have a favourite site yet, I like a lot of sites for different reasons. I love animated sites like the "Enigma site"... that one is cool. I surf the net any time I can which is not often because I work a lot.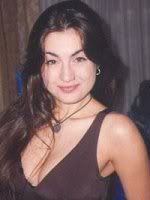 What is the status of your current projects?
I am finishing up Limbo now and I have 2 more scripts in the works and a short that will be finished in a month. I'm also working on a ghost documentary in New Orleans. Look for 2 movies 1. The Pump Boys - comedy and 2. Machines of Love and Hate - thriller.
How would you most like to be thought of?
I think I'd like to be thought of as a fun and fair person but smart and tough I quess. I don't want to instill anything in anyone's head so think want you want but if its bad keep it to yourself... no time for negative energy.
Thank You
Please check out her website at
www.tinakrause.com
to find out even more about this true queen of horror.
All pictures of Tina Krause on this page are copyrighted to Tina Krause and are used here with permission.