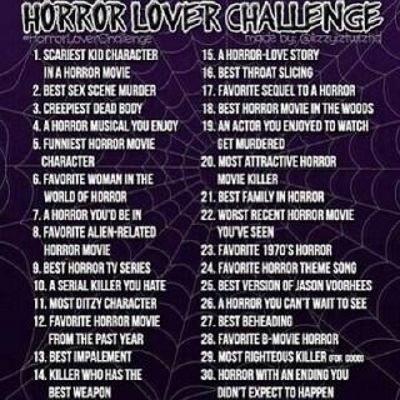 I was sent this little quiz thing earlier today by
DirtyGirl
on
Twitter
. I have no idea where it originally came from, who made it, or why they made it, but it's been cropping up on various horror blogs and Facebook pages as some kind of meme.
Although it's more of a series of headings than actual questions, and I assume that it was created to preface a month's worth of daily blog posts, I thought I might as well get it out of the way. As usual, I've corrected the American spelling of "favorite" to British/Canadian/Australian English (because that missing "u" is so important!), but the other grammatical errors remain.
1. SCARIEST KID CHARACTER IN A HORROR MOVIE
Ralphie Glick from "Salem's Lot" (1979). Runners-up would be the ghostly kids in "Lost Hearts" (1973).

2. BEST SEX SCENE MURDER
I think this means somebody being murdered while having sex, in which case "A Serbian Film" (2010) has the best one.

3. CREEPIEST DEAD BODY
Belén Rueda as Mayka in "The Body" (2012). Not only creepy but a terrible waste too.

4. A HORROR MUSICAL YOU ENJOY
None. That's easy to answer. I can't stand horror musicals. I do like "Cabaret" (1972), but it only counts if you really stretch the definition of horror.

5. FUNNIEST HORROR MOVIE CHARACTER
Martin in "Twisted Nerve" (1968). My ideal choice would've been Cindy Campbell in the "Scary Movie" series except that she's not actually funny.

6. FAVOURITE WOMAN IN THE WORLD OF HORROR
According to my recent "Top Ten", it's Katharine Isabelle. That may change again very soon though.

7. A HORROR YOU'D BE IN
My whole life is one long horror movie, but anything with cats would be good.

8. FAVOURITE ALIEN-RELATED HORROR MOVIE
Again, according to my "Top Ten" on the subject, it's "The Thing" (1982).

9. BEST HORROR TV SERIES
The first "American Horror Story" (2011). I would have said "Buffy the Vampire Slayer" or "Angel" but their final seasons ruined them.

10. A SERIAL KILLER YOU HATE
All of them. I hate serial killers. A fictional one is The Collector because of his cat cruelty. In reality, Fred West stands out the most.

11. MOST DITZY CHARACTER
Paige Edwards (Paris Hilton) from "House of Wax" (2005). There are others in the same vein, but she's the first one who springs to mind outside of a horror-comedy.

12. FAVOURITE HORROR MOVIE FROM THE PAST YEAR
The best of a bad lot is "Frankenstein's Army" (2013).

13. BEST IMPALEMENT
There are two ways this can go, so I choose Father Brennan's death in "The Omen" (1976). If you want a more traditional method, "Cannibal Ferox" (1981) has one of the best.

14. KILLER WHO HAS THE BEST WEAPON
Death aka The Grim Reaper. He just has to touch you.

15. A HORROR LOVE-STORY
I can't decide between "Spectre" (2006) or "Blood & Chocolate" (2007), even though you all expect me to say "Twilight".
16. BEST THROAT SLICING
I want to say "Braveheart" (1995), but it's not horror. "Saw II" (2005) also has a very good one.

17. FAVOURITE SEQUEL TO A HORROR
I really like "Hellbound: Hellraiser II" (1988), but Rob Zombie's "Halloween II" (2009) deserves an honorable mention.

18. BEST HORROR MOVIE IN THE WOODS
Just to be predictable, I'll go with "The Evil Dead" (1981). This subgenre is not one of my favourites.

19. AN ACTOR YOU ENJOYED TO WATCH GET MURDERED
Taking this as an actor being fictionally murdered rather than in real life, Sergi López at the end of "Pan's Labyrinth" (2006). I'm usually on the side of the bad guys, but not in this case. The runners-up would be either Kathy Bates in "Misery" (1990) or Anne Ramsey in "Deadly Friend" (1986).

20. MOST ATTRACTIVE HORROR MOVIE KILLER
Jennifer (Megan Fox) in "Jennifer's Body" (2009). It's a pity that Floriana (Edwige Fenech) doesn't actually kill anyone in "Your Vice Is a Locked Room and Only I Have the Key" (1972) or I would have chosen her instead. Ladies would probably choose Patrick Bateman in "American Psycho" (2000).

21. BEST FAMILY IN HORROR
The Munsters. They are all really nice and not dysfunctional at all.

22. WORST RECENT HORROR MOVIE YOU'VE SEEN
Just because it was so boring: "The Conjuring" (2013).

23. FAVOURITE 1970'S HORROR
Taking the grammatical error as a non-error, "Mumsy, Nanny, Sonny, and Girly" (1970). Otherwise, it's "The Omen" (1976) again.

24. FAVOURITE HORROR THEME SONG
"Ave Satani" from "The Omen" (1976).

25. BEST VERSION OF JASON VOORHEES
The first one where he's a little deformed kid.

26. A HORROR YOU CAN'T WAIT TO SEE
The remake of "Suspiria". And, yes, I do know that it's been cancelled. I'm honestly not looking forward to anything.

27. BEST BEHEADING
Jennings (David Warner) and a sheet of glass in "The Omen" (1976).

28. FAVOURITE B-MOVIE HORROR
The Asylum wins with "Sharknado" (2013). I don't do hobby horror.

29. MOST RIGHTEOUS KILLER
Death aka The Grim Reaper. He comes to everyone in the end.

30. HORROR WITH AN ENDING YOU DIDN'T EXPECT TO HAPPEN
Not only didn't I expect the ending of "High Tension" (2003), but it royally sucks too.
Done!
Now it's your turn!