If you're anything like me (and I sincerely hope that you aren't), your knowledge of Naziploitation probably begins and ends with "
Ilsa: She Wolf of the SS
" (1975). Give or take the sequels, there's not much in these movies for horror fans.
To say that Naziploitation has a niche audience of sado-masochists, perverts, and people who just like looking at sexy women dressed in Hugo Boss uniforms may be over-generalising, but there's definitely a stigma attached to this subgenre for all the right reasons. However, just out of curiosity, I decided to try out the new
GrindhouseFlix
site from Full Moon to see what this stuff was all about.
GrindhouseFlix is a nicely designed site with some truly weird and wonderful movies on it (with more due to be added every month). I found the navigation and sign-up process very easy indeed, but the best bit is that the video streaming software which they use behind the scenes works on Linux. Unlike Netflix (which is unusable on Ubuntu even though there's now an unofficial way of getting it to work using WINE), GrindhouseFlix works on any modern operating system.
I used a promo code to watch "Nazithon" for free so it would be churlish of me to look a gift horse in the mouth, but I have to say that the collection of trailers and clips is hardly an in-depth documentary. Basically, it's a collection of most of the nudie bits from the Naziploitation movies. There's nothing wrong with that at all, but I wish that I'd used my freebie on a full length movie instead.
Being my usual cynical self, I'd guess that "Nazithon" is really meant to be a taster (or teaser) for some of the movies which are eventually going to be available on the site, but I still got something out of it. I made a list of anything which looked interesting including "SS Hell Camp", "Salon Kitty", and "The Damned" so that I can watch them later. I'm sorry to say that clips of "Zombie Lake" didn't impress me, but that's because I've had a gutful of zombies anyway.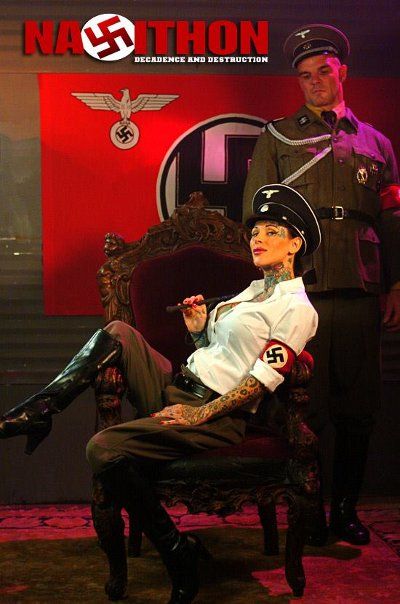 The hosts of this excursion into "Decadence and Destruction" aren't natural comperes, and I couldn't tell you who either of them are in the entertainment industry without looking them up. There's nothing she can do about it now, but Michelle McGee has far too much ink for an SS officer and looks a bit silly. The fact that the real SS had no female officers anyway (as far as I know) is neither here nor there. This is a Full Moon production after all.
A brief cameo by a certain female puppet from "Puppet Master: Axis of Evil" (2010) is a treat for fans of the series, but I haven't got that far through them yet and have no idea who she is either.
If you want to watch "Nazithon" for free, just click on the banner below, sign up, and use one of the promo codes from Full Moon's
Facebook
page. It's only 80 minutes long and you might enjoy some of it.