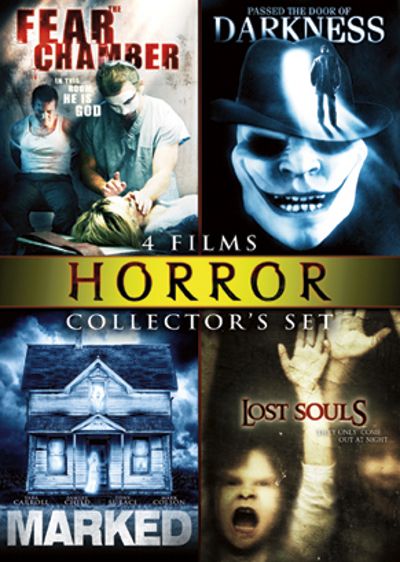 I don't have a copy of this "Horror Collector's Set", but I do have all the movies from it in other Echo Bridge Home Entertainment packs due to repetition.
After changing the artwork to a '50s diner/motorcycle theme in February 2010 for what the online retailers call "Vol. 6" (featuring "
Prom Night
", "Descendant", "The Nurse" and "The Dead One"), Echo Bridge Home Entertainment reverted back to their older design in June 2010 for presumably what should really be called "Vol. 7". I'd lost all interest in buying multipacks at this point, so I'm still missing a few titles which I know have been reused again in "The Midnight Horror Collection" 8 packs and 20 pack.
More shenanigans!
Just to complicate things further for the collector, a second version of this set was released with "
Skeleton Man
" instead of "Lost Souls". Whether it's a regional variation, a mistake made during the manufacture of the DVDs, or Echo Bridge Home Entertainment intentionally trying to get people to buy another set just for one different movie, I have no idea. I'd hazard a guess that it's a combination of all three with a tendency towards the latter based on my experience with
the first of these packs
.
I'd warn you against buying the "Vol. 8" variant because "Skeleton Man" is an absolute piece of crap, but owing to the nature of these packs anyway, that's kind of a moot point. Some people with more money than sense love collecting crappy movies, so it's as valid as any "Horror Collector's Set" especially if you haven't already bought others in the series.
I must admit that if I had a load of money to waste on these things, I'd buy all the Echo Bridge Home Entertainment horror packs just to go through them, line them up on my shelves, and marvel at how one movie was taken from somewhere else and another was randomly added to make so many sets. With pawn shop prices continuing to drop and DVDs becoming cheaper than candy bars, I might do that one day for the fun of it.
For now though. I'll quickly go through this final "4 Films Horror Collector's Set".
The Fear Chamber
(2009)
"A detective is on the verge of capturing a serial killer, but nightmarish visions thwart his efforts."
I've already written about "
The Fear Chamber
". It has some gore, but it's not a very good movie.
Passed the Door of Darkness
(2008)
"Two detectives try to track a serial killer but end up becoming the murderer's next target."
Another "Night Light Films" production which tries to be a low-budget clone of "Se7en" to start with, turns into a soap opera, and then throws in a twist which you've seen dozens of times before. "
Human Behavior
" (2005) in Mill Creek Entertainment's "Tomb of Terrors" multipack does this better.
Being full of clichéd lines, horrible characterisation, and overlong at 100 minutes, "Passed the Door of Darkness" is even worse than "The Fear Chamber".
There's some okay gore, and a couple of supernatural red herrings are thrown in, but it's not really a horror movie. Despite that minor detail, it's also in the "10 Movie Horror Pack" and "20 Film Horror Set Vol. 1".
Marked
(2007)
"A group of Ghost Hunters discover a powerful force that puts one of their members in great danger."
This isn't very good. It looks cheap, the pacing is all over the place, and the plot is confused. It ranges from nothing going on to too much being forced in too quickly, and it doesn't make a whole lot of sense anyway.
The acting isn't too bad, the girls in the movie are pretty, but nobody really stands out either. With no atmosphere, no genuinely creepy scenes, and nothing scary for anyone, "Marked" misses the mark completely.
At least it's a supernatural horror movie after the two "crime" films on the other side of the DVD, but it's still a low-budget nasty that's more of an endurance test than entertainment.
Lost Souls
(1998)
"A move into a new house takes a chilling turn when a family realizes the spirits of two murdered children are communicating through eight-year-old Megan."
Not to be confused with the Winona Ryder film from 2000, this is a decent made-for-TV movie which originally aired on the UPN network for the "Thursday Night at the Movies" series in 1998. It's full title is "Nightworld: Lost Souls".
Although the use of a Thomas Edison "frequency harmonizer" machine in the movie had me thinking about "
The Brink
" (2006), the story is completely different. Apparently, it's very similar to Orson Scott Card's "
Lost Boys
" novel. Having never read it, I'd say that this is more of a precursor to "
The Orphanage
" (2007). I can also see a few similarities to Stephen King's "The Green Mile" and Harper Lee's "To Kill a Mockingbird".
Essentially, "Lost Souls" is a formulaic ghost story/murder mystery with several red herrings and a "Scooby Doo" villain, but it's very well done. John Savage does a good job while his onscreen wife is played by MILFy German actress Barbara Sukowa. Even the kids aren't annoying in this one.
For some bizarre reason known only to Echo Bridge Home Entertainment, there is no single-feature DVD of "Lost Souls". You can only get it as part of this 4 pack, as a double-feature with "Marked" (which does have its own DVD!), or as the bonus movie with the boring Miramax Anna Paquin movie "Darkness" (2002).
Sadly, this is a very weak ending to the "4 Films Horror Collector's Set" range with only one good TV movie and three really bad, low-budget "indie" ones.
Basically, this is a collection of Night Light Films with "Lost Souls" added to it instead of their "Battle Planet" (2008). "Battle Planet" has a single DVD release, comes as a double-feature with "Riddler's Moon" (1998), and is part of a "4 Films Sci-Fi Collector's Set", just in case anyone is a big fan of Night Light Films and wants all four of their movies.
I can't, in good conscience, recommend this collection to anyone because of the two extremely boring serial killer thrillers. Instead, the "Lost Souls/Marked" double-feature offers much better value at $2.99 in K-mart's bargain bin or wherever else you may find it.