"A disturbed and delusional high school student with aspirations of a career in medicine goes to extremes to earn the approval of her controlling mother."
Starring AnnaLynne McCord (from "Nip/Tuck"), Roger Bart (from "Desperate Housewives"), Ariel Winter (from "One Missed Call"), Traci Lords, Malcolm McDowell, and Matthew Gray Gubler (the guy with the exceedingly long neck from "Criminal Minds"), "Excision" isn't really a horror movie, but I was asked to take a look at it and briefly review it for somebody on
another site
that I occasionally hang out on.
If you like slow-moving, offbeat, highschool/coming of age dramas with lots of blood and gore in dream sequences then "Excision" will make you very happy indeed. There are bucket loads of blood in this, several mouthfuls of vomit, and some particularly revolting teenage acne. Even herpes makes a guest appearance. For me, however, "Excision" seems to take all day to get to the point. Apart from the practical effects, I'm not overly impressed by any of it.
The acting is fine, there are no problems with the camerawork or any of the other production values, but for obvious reasons, "Excision" looks and feels just like an episode of "Nip/Tuck", "American Horror Story" or "Desperate Housewives". It tries to be all sexy, controversial and outrageous, but just like on TV, many punches are pulled, and it's far too long despite the running time being only an hour and 20 minutes.
The main problem with any "horror" movie which isn't really a horror movie until the very end is how much is put in to prepare you for the final reveal. In this case, "Excision" shows all the gory bits right from the very beginning, and this ruins the shock value of the ending. Even for the squeamish, this technique is anaesthetising and predictable.
Although it's still quite insane, less dark comedy and an even more "out of left field" punchline could have turned "Excision" into a really good story instead of a cult wannabe. The same thing almost happens with "
Teeth
" except that the similar vibe and over-extended gag plays out better. It's definitely not a good idea to watch the two back-to-back if you are looking for originality.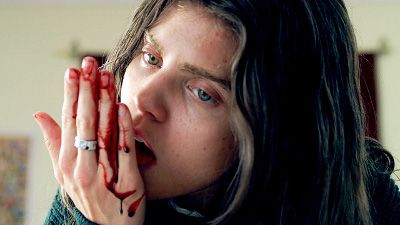 As a quick cash grab, there are the usual suspects involved in this including Malcolm McDowell phoning-in another performance as a snarky British maths teacher. Traci Lords does a nice impersonation of Bree from "Desperate Housewives" while, ironically, Roger Bart is slightly more endearing than usual. I can't really fault Roger Bart in anything except "Hostel 2" though. Unfortunately, not one member of the cast is outstanding because "Excision" spends too much time lingering over the gloriously bloody effects rather than the superficial characterisation. There's simply nobody in this to care about.
I absolutely loathed AnnaLynne McCord when she played Eden in "Nip/Tuck" and was extremely happy when she was written out. Pauline, her character in "Excision", is equally vile, distancing, and unsympathetic plus she looks sicker than her onscreen sister (Ariel Winter) who is supposed to have cystic fibrosis. As soon as I saw her "ugly" make-up and fake pimples, I had no interest in seeing any more of her. Apart from showing some skin, she's very "TV" acting-wise and just isn't convincing as an angsty teenager now either.
I wish I had something more positive to say about "Excision" because there's definitely something good underneath. The trouble is that it has to struggle so much to be seen through the mediocre execution of everything else. If you are less critical than me, you will probably love it in spite of the flaws.
I'm rating "Excision" as below average. Numerically, I'd give it a 4 out of 10 if I was still doing things that way. It's a good idea, entertaining enough, nicely produced, but too quirky, far-fetched and unsatisfying. At the end of the day, "Excision" is Richard Bates Jr.'s directorial debut. He had four years to develop this from his short of the same name, but I won't hold that against him.