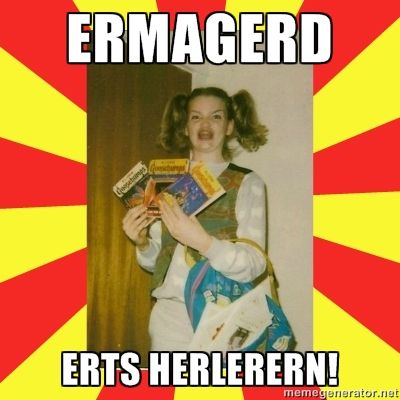 Yay! It's HALLOWE'EN! We've made it! Now for the biggest anticlimax of the year since it's also just another Wednesday.
Nobody is able to do anything too exciting tonight because of work so all that we have to look forward to is the next sucky episode of "
American Horror Story
", an early night with a mug of cocoa, or being swept away by the non-existent Frankenstorm.
At least I've completed my 31 days of Hallowe'en horror movie reviews. I think I did okay, but I must admit that I started to feel burnt out occasionally. There's only so many times that you can watch the same movies over and over again without becoming bored with them so I wisely mixed up my selection a bit. I'm very glad that I didn't choose all the ghostie stories now or I wouldn't have made it past the first week.
Unlike
last year
, although October has been another disappointing time for new horror movies, I won't be giving up on my blog again for 4 months. I am going to take a small break to watch some non-horror movies though because I deserve it.
As usual, since it's Hallowe'en, I will be avoiding horror completely tonight by watching the ultimate romantic comedy starring Alicia Silverstone - "Clueless". I love Alicia Silverstone even though she's completely nuts. Will I be watching her team up with Amy Heckerling and Wallace Shawn again for "Vamps" in two days' time? Probably not, but maybe.
Obviously, Alicia Silverstone is no stranger to horror movies having been in "Hideaway" (1995) with Jeremy Sisto (another of her co-stars from "Clueless"). Brittany Murphy was in "Cherry Falls" (2000), Breckin Meyer was in "Freddy's Dead: The Final Nightmare" (1991), and Paul Rudd played Tommy Doyle in "Halloween: The Curse of Michael Myers" (1995), but that's as far as I want to go with the horror connections. I really do want to forget all about the genre for a while.
Hallowe'en marks the end of the year for me and a new beginning for my blog. If the Frankenstorm doesn't get me (or my internet connection), I'll be back in a few days with an article or two rather than any more boring horror movie reviews. I have no idea what I'm going to write about yet. You could say that I'm "Clueless". Whatever (sorry, I couldn't resist it), it's going to be interesting.
Happy Hallowe'en!