"Welcome to Briarcliff Manor, a notorious insane asylum home to the deranged serial killer, Bloody Face. Lurking in the shadows of this sanctuary of healing are terrifying evils that blur the boundaries between reality..."
In case you missed the TV event of the year, "
American Horror Story
" returned to the FX channel last night with a completely different story and characters to the first season. This time it's all about a Catholic mental asylum in 1964, alien abductions, and crazy experiments. Alas, there are no more Harmons, Langdons or hot maids, but just another confusing mess to start working out over the coming weeks.
I didn't find the first episode to be so instantly engaging or even half as interesting as before although, with a lot of new cast members, it's too early to tell how this will go.
While I'm pleased to see Sarah Paulson in a bigger part which promises some sapphic sauciness, I'm sure all the fangirls are now ecstatic that Evan Peters is also back in a new role. He's playing a killer who can't remember anything so no big change there.
Of course, the big draw, since she's won a few TV awards, is the return of Jessica Lange. Now she's a nun with an agenda which will surely become more obvious as the story continues.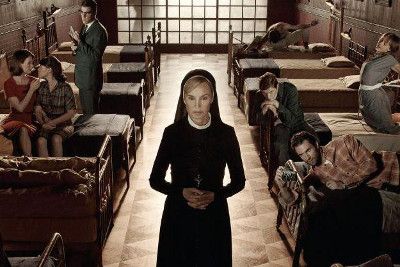 With its distinct lack of supernatural elements, I doubt that I'll watch "American Horror Story" every week this time. I'm not into space aliens or nutters, and I already have a bad feeling that it's going to become a generic slasher at the end.