"The film takes place five years after Paranormal Activity 2, which ended with Katie kidnapping Hunter. It follows the life of Alice, her boyfriend Ben and her mother, as paranormal activity starts to occur in their home when Katie and Hunter (now called Robbie) move into the neighbourhood. A laptop is one of the techniques in the film, as well as the Kinect as seen from the trailers. After Katie goes to the hospital Alice's Mother takes Robbie (Hunter) in, which leads to strange occurrences around the house."
(from
Wikipedia
)
Much to the delight of everyone who likes boobies, wobbly camerawork, and horror movies with only three strategically placed jump scares, Katie Featherstone will be back in "Paranormal Activity 4". Let's face it, she's the only reason any of us will watch this except to bitch about it, right guys?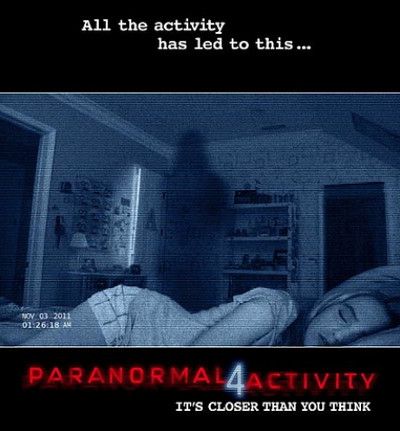 You know I'm not a big fan of the "Paranormal Activity" movies. Basically, when "Paranormal Activity" replaced the "Saw" franchise as the must see Hallowe'en movie every year, it was the beginning of the end as far as the brief reawakening of the horror genre was concerned.
Even though I'm not privileged (or sycophantic) enough to have already seen a workprint of "Paranormal Activity 4", I can already tell from the (possibly misleading) trailer that it will be one of the most disappointing things this year, I'll still be right there with you (in spirit) watching this feeble alternative to a physical "haunted house" though. It's not yet rated, but it's bound to be another PG-13 so it won't be any worse than the last three in the series, will it? Ugh!
According to the
official website
, "Paranormal Activity 4" is due to be released on October 19th, 2012. You have been warned!