The Second Shelf - part A
I'm not getting any better at photography, obviously, but if you want to see the first half of this second DVD shelf bigger, click on the picture below.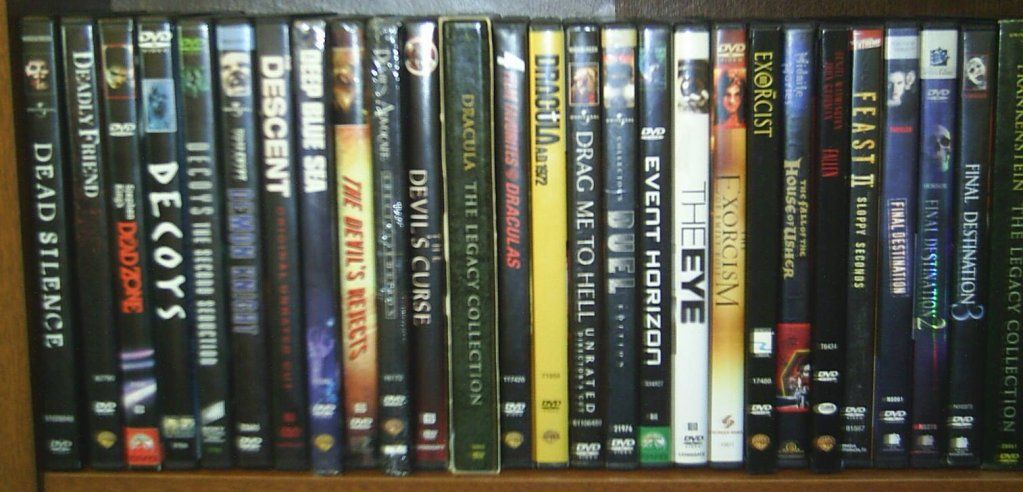 Just as before, I'll go through them from left to right.
Dead Silence
I think this was from Big Lots $3 sale about 3 years ago although it could have been from FYE. I'd heard a lot of good things about this film but was put off buying it because of the huge marketing campaign which spammed MySpace back in the day. It's an okay film but I've only watched it twice since I bought it and I would probably rate it as slightly below average.
Deadly Friend
This one definitely came from Big Lots along with a couple of others from the same "Twisted Terror Collection" series. I remembered this as being a lot better than it actually was when I first watched it back in the '80s. I was almost embarrassed to watch it again since it wasn't so hot even if Kristy Swanson was.
The Dead Zone
I really liked this enough to buy it from the pawn shop because I missed out on it at Big Lots. It's not really horror, the book is actually better, but I did like Christopher Walken being cast against type in it. I'm still not a big fan of Brooke Adams in anything though.
Decoys
I'd never even heard of this before I bought it and its sequel from Big Lots at the height of their $3 DVD sales. It turned out to be pretty good for a humorous Canadian version of "Invasion of the Body Snatchers". Hardly original but I enjoyed it for all the good looking girls in it.
Decoys: The Second Seduction
More of the same as the original film only slightly less so. Even more good looking Canadian actresses are this movie's selling point but I really only bought it for completeness.
Demon Knight
The weaker of the two "Tales from the Crypt" movies but with a nice performance by Billy Zane. I wish I'd bought the double-feature version with "Bordello of Blood" rather than buying them individually but it's too late now.
The Descent
I'll be honest here, I don't really like this film even with the original UK ending rather than the American ending. I didn't like any of the characters, hated the CHUDs, and, pretty much loathe the entire movie. I got it from the pawn shop really cheap though.
Deep Blue Sea
Another Big Lots purchase which I haven't even opened due to having this on VHS as well. I like the film but kept confusing it with "Deep Rising" (which I still need to buy on DVD but, again, already have on VHS).
The Devil's Rejects
I only got this a few weeks ago from the pawn shop and it turned out to be the full screen 2-disc version. I've never seen the widescreen version anywhere though. I'll probably play it on my laptop sometime when I'm bored anyway. It's got Sheri Moon Zombie in it so that's reason enough to keep it. Yes, I know it's out of alphabetical order.
The Devil's Advocate
I haven't opened this one either and it's been so long since I last saw it on TV that it's due to be watched soon. I seem to remember the girl in it being kinda hot but really freckly so it might be something that I'll get rid of.
The Devil's Curse
I haven't watched it yet but I'm looking forward to doing so.
Dog Soldiers is in my R2 folder.
Dracula - The Legacy Collection
Far too much stuff in this pack to go through here but it has all five of the Universal Dracula movies ("Dracula", the Spanish version of "Dracula", "Dracula's Daughter", "Son of Dracula", and "House of Dracula"). It also has several documentaries and some other junk which isn't so interesting. I got it for $14.99 from FYE and I think it's still the same price. I grew up watching these old movies on BBC2 late at night but none of them were scary even when I was a child.
4 Film Favorites - Draculas
In my opinion, this is the only Hammer collection worth buying especially since it was only $9.99. The pack contains bare bones editions of "Horror of Dracula", "Dracula Has Risen from the Grave", "Taste the Blood of Dracula" and "Dracula A.D. 1972" (plus its trailer). It's a pity that there isn't a Frankenstein or Karnstein/Vampires pack like this but the copyrights are all over the place in America so it's never likely to happen.
Dracula A.D. 1972
This is my favourite Hammer Dracula movie and the one I saw first as a child. I bought this separately thinking that there might be some extras on the DVD which weren't in the 4 pack but it turned out to be exactly the same Warner Brothers release.
Drag Me to Hell
This has the unrated director's cut and theatrical cut on the same DVD. I didn't like the movie when it first came out (especially with all the loud noises), but it has grown on me since. I got it for $5 after my big DVD exchange.
Duel
Steven Spielberg's best film, more of a thriller than a horror, but well worth the $3 I paid for it. I may move it somewhere else because it doesn't really belong on my horror shelves.
The Dunwich Horror used to be here but I sold it.
The Entity will go here when I find a copy.
Event Horizon
Paul W.D. Anderson's sci-fi version of "Hellraiser in Space" is a very underrated movie especially if you like Lovecraftian creepiness. I got it from the pawn shop after several weeks of indecision since I already had it on VHS.
The Evil Dead is in my R2 folder.
The Eye
The first Asian horror remake I ever bought although the DVD inside is a replacement to the original. The first one came from a yard sale and was badly scratched. I tried all the techniques on YouTube to get the scratches out and ended up making it worse. Eventually, I took it into a store that had a DVD resurfacing machine but bought a new copy from them because it was cheaper.
The Exorcism of Emily Rose
I used to really hate this movie but, last year when I was really bored, I started watching it on TV and got hooked. I fell asleep before the end so I had to go out and buy it. Fortunately, my local pawn shop has about 50 copies of this DVD which all came from Big Lots originally. It's still a bit too talky for my taste but I have it now.
The Exorcist is in my R1 folder.
Exorcist II: The Heretic is in my R1 folder.
The Exorcist III
I have "The Exorcist", "The Exorcist: The Version You've Never Seen", and "Exorcist II: The Heretic" in a Case Logic folder. I've still never made it through this film because it bores me to tears so I've left it on the shelf for that one day when I'm desperate enough to give it another try.
The Fall of the House of Usher
Big Lots again. They had a lot of these "Midnite Movies" at one point and I was almost silly enough to start collecting them. I also bought "The Dunwich Horror" and "Killer Klowns from Outer Space" but sold them at a yard sale because they were crap. I kept this one and another with Vincent Price in it because, well, I like Vincent Price.
Fallen
I also have this on a Denzel Washington "4 Film Favorites" pack so its days are numbered now especially as it's in a nasty cardboard DVD case. I really liked this film at the time but I've only watched it once since I bought it from Big Lots.
Feast II: Sloppy Seconds
An awful mistake. I should never have bought this piece of crap and the mistake is compounded by it not even being the unrated version. I'll reuse the case for something better and use the DVD as a coaster or something. It's absolute rubbish of the highest order.
Final Destination
I thought this movie was great at the time so bought all three from FYE. Unfortunately, only the first two were worth having.
Final Destination 2
Not quite as good as the first one but I was entertained. I really only bought it for completeness though.
Final Destination 3
Completely useless movie which I'm again tempted to just reuse the case from. It has some kind of "create your own ending" feature which I've never actually tried out though. I really must do that before I throw it out.
Since it's cut off in the photograph, I'll start with
Frankenstein - The Legacy Collection
when I go through the second half of this shelf.