"A stranger attempts to convince a happily married couple that their daughter is actually his daughter reincarnated."
From the same source as the last movie I watched, I also found "Audrey Rose". Well, it's not as if she was hiding.
This is yet another film which I don't own on DVD but not because I hate it or anything. It's a little bit dated now but the only reason I haven't bought it is because I recorded it onto a VHS tape the last time the BBC showed it.
Although "Audrey Rose" isn't really a horror movie, it was directed by Robert Wise who did "The Haunting" (1963) and was written by Frank De Felitta who also wrote "The Entity". It also freaked me out a little bit when I first saw it because I mistakenly thought that it was based on a true story.
For all its flaws, somewhat patronising exposition, overly dramatic acting, and extremely slow pace, "Audrey Rose" actually threw up a few questions about reincarnation, life and death, and a belief system shared by over 700 million people which I'd never considered before.
I'm not sure how many years ago it was, maybe in the early '80s, but there used to be a Sunday TV programme called "Credo" on ITV which once did a documentary about twin sisters who appeared to be the reincarnation of their own dead sisters. I'm not sure whether it was just a publicity stunt to sell a few books or if there was any truth to it but it stuck in my mind all the same.
Of course, that case had nothing to do with the "Audrey Rose" story which was all completely fictitious anyway and very much designed to sell as a book. I even had a copy of it myself but I don't think that I read more than the first chapter before I got bored with it. I used to read a lot of books but always preferred the ghostie ones over any other weirdness.
"Audrey Rose" as a film is a pretty weird thing itself. A bit like its recent namesake "The Exorcism of Emily Rose" (2005), almost half of it is set in court. I know court cases are a big thing in America (oh, trust me, I know only too well) but, as a Brit, I find them particularly petty and boring.
The court case in "Audrey Rose" is about as far-fetched as any that I've encountered in a movie and only made a little bit more interesting by seeing Higgins from "Magnum, P.I." playing a prosecution lawyer.
Apart from the obvious, i.e. Anthony Hopkins and Marsha Mason, there are a few other very recognisable faces including John Beck (from "Flamingo Road" and "Dallas") playing the father of the little girl with the reincarnated spirit of Audrey Rose inside her and Norman Lloyd who later played a Catholic priest in "Amityville 4".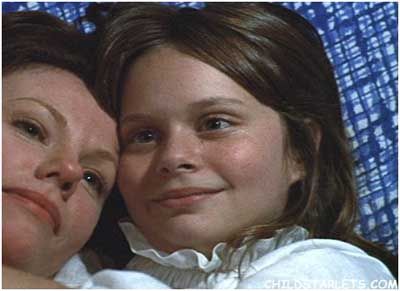 Susan Swift (above) has the role of Ivy, the aforementioned little girl, and, yes, in case you are wondering, she really is cross-eyed. If you are easily distracted by little girls who aren't very good at acting then you'll find yourself staring at the screen wondering what exactly is wrong with her face so I thought I'd point that out.
She also went on to briefly appear as a nurse at the start of "Halloween: The Curse of Michael Myers" (1995) but, unless, you are an uber fan of that turd of a movie, you probably wouldn't have cared enough to look that piece of trivia up. I'm pretty sure that she hasn't acted since.
Brooke Shields posed for the book cover but, in spite of some false information spread about this movie, she never auditioned for the role of Ivy. If she had done and been cast, I'm not sure if she would have been any better as Ivy than Susan Swift. Nearly every child actor from the '70s played their parts with the same embarrassing affectations including Linda Blair in "The Exorcist" (1973) of course.
Similarities to "The Exorcist" are, unfortunately, rather obvious even though "Audrey Rose" isn't a story about demonic possession. Then again, maybe it is. It depends on your own beliefs. I don't believe in reincarnation although I think it's a clever idea so make of that what you will. Like I said, "Audrey Rose" certainly throws up a few interesting questions.
Anyway, the whole movie is available to watch in several places on YouTube if you've never seen it before. It's not a great film (and it's a little bit too long) but, if you like films about the paranormal or the supernatural, you might enjoy it.