Somebody recently drew my attention to Time magazine's list of the 100 "best movies" since Time's inception in 1923. It's not all that recent and has been kicking around the internet since 2005 as far as I can tell.
As I expected, not many horror movies made the list; "Bride of Frankenstein" (1935), "Invasion of the Body Snatchers" (1956), "King Kong" (1933), "The Fly" (1986), and "Psycho" (1960) are on there.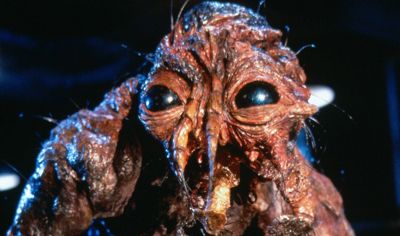 Only 5% of their top films come from the horror genre although, really, two of those are more sci-fi than horror, one is an adventure story, and one is a thriller
Whenever I see something like this, it really brings home the fact that my favourite genre is such a niche product and so despised by many.
Even though I disagree with nearly everything on this list, I've highlighted (in
bold
) all the movies which I've seen as an example of how their critics' piss poor taste in movies has no effect on what I choose to watch.
Time Magazine's 100 Best Movies
Aguirre: the Wrath of God (1972)
The Apu Trilogy (1955, 1956, 1959)
The Awful Truth (1937)
Baby Face (1933)
Bande à part (1964)
Barry Lyndon (1975)
Berlin Alexanderplatz (1980)
Blade Runner (1982)
Bonnie and Clyde (1967)
Brazil (1985)
Bride of Frankenstein (1935)
Camille (1936)
Casablanca (1942)
Charade (1963)
Children of Paradise (1945)
Chinatown (1974)
Chungking Express (1994)
Citizen Kane (1941)
City Lights (1931)
City of God (2002)
Closely Watched Trains (1966)
The Crime of Monsieur Lange (1936)
The Crowd (1928)
Day for Night (1973)
The Decalogue (1989)
Detour (1945)
The Discreet Charm of the Bourgeoisie (1972)
Dodsworth (1936)
Double Indemnity (1944)
Dr. Strangelove (1964)
Drunken Master II (1994)
E.T. The Extra-Terrestrial (1982)
8 1/2 (1963)
The 400 Blows (1959)
Farewell My Concubine (1993)
Finding Nemo (2003)
The Fly (1986)
The Godfather, Parts I and II (1972, 1974)
The Good, The Bad and The Ugly (1966)
Goodfellas (1990)
A Hard Day's Night (1964)
His Girl Friday (1940)
Ikiru (1952)
In a Lonely Place (1950)
Invasion of the Body Snatchers (1956)
It's a Gift (1934)
It's a Wonderful Life (1946)
Kandahar (2001)
Kind Hearts and Coronets (1949)
King Kong (1933)
The Lady Eve (1941)
The Last Command (1928)
Lawrence of Arabia (1962)
Léolo (1992)
The Lord of the Rings (2001-03)
The Man With a Camera (1929)
The Manchurian Candidate (1962)
Meet Me in St. Louis (1944)
Metropolis (1927)
Miller's Crossing (1990)
Mon oncle d'Amérique (1980)
Mouchette (1967)
Nayakan (1987)
Ninotchka (1939)
Notorious (1946)
Olympia, Parts 1 and 2 (1938)
On the Waterfront (1954)
Once Upon a Time in the West (1968)
Out of the Past (1947)
Persona (1966)
Pinocchio (1940)
Psycho (1960)
Pulp Fiction (1994)
The Purple Rose of Cairo (1985)
Pyaasa (1957)
Raging Bull (1980)
Schindler's List (1993)
The Searchers (1956)
Sherlock, Jr. (1924)
The Shop Around the Corner (1940)
Singin' in the Rain (1952)
The Singing Detective (1986)
Smiles of a Summer Night (1955)
Some Like It Hot (1959)
Star Wars (1977)
A Streetcar Named Desire (1951)
Sunrise (1927)
Sweet Smell of Success (1957)
Swing Time (1936)
Talk to Her (2002)
Taxi Driver (1976)
Tokyo Story (1953)
A Touch of Zen (1971)
Ugetsu (1953)
Ulysses' Gaze (1995)
Umberto D (1952)
Unforgiven (1992)
White Heat (1949)
Wings of Desire (1987)
Yojimbo (1961)
I've only watched 33 of these movies (34 if you include "The Singing Detective" which was actually a BBC TV series) or, in other words, a third of them. I have no interest in all those boring old black and white movies, comedies, or artsy-fartsy foreign rubbish.
I've honestly never even heard of 50% of these movies in the first place and only know anything about them now because I looked them up.
How many have you watched?