Actually, she didn't but she should have. Cyprus came joint sixteenth with Ukraine. Either the votes were rigged or people were stupid and voted for the scruffy Swedish baglady trying to swat invisible flies in a wind storm instead.
Here are the results of the top four and their points:
| | | |
| --- | --- | --- |
| 1 | Sweden | 372 |
| 2 | Russia | 259 |
| 3 | Serbia | 214 |
| 4 | Azerbaijan | 150 |
Disgusting, wasn't it? It's not that I've got anything against Sweden but they had far from the best song in the competition. The other acts might as well have not turned up especially the predictably depressing dirge from Serbia or the Albanian girl with the acne scars and ball of rope on her head who screamed for most of her three minutes.
When a joke entry like the old Russian grannies (who presumably have all been stacked inside each other now that the show is over) gets almost four times the points of a catchy pop song such as "La La Love", it's time to never watch that Eurovision crap again.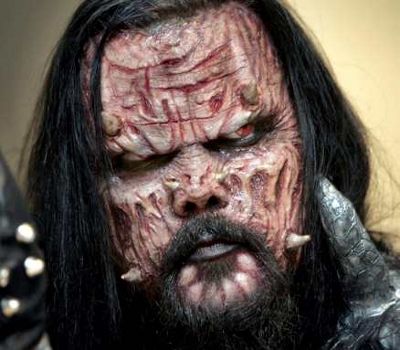 I've been watching the show every year since I was a small child but it pissed me off way too much this time. Even
Mr Lordi
turning up in his full monster costume and make-up to slowly give the results of the Finnish voting couldn't redeem things.
So, you'll be glad to read that I will never waste another week of my blog on this musical horror. Normal service, including horror movie reviews, will recommence in a few days (once I adjust to the unbearable heat and humidity).
For now, I will leave you with a beautiful picture of
Ivi Adamou
who, unlike the "winner" of the Eurovision Song Contest who we'll never hear of again, is still thanking all her supporters and fans on
Facebook
and
Twitter
.
She's a classic beauty and pure class all the way.