As most of you already know, I love going to my local pawn shop at least once a week in search of DVDs which I'm too lazy to go all the way up to Wal-mart for.
This time, I just had to buy these 4 packs especially as they were 4 for $10. Yes, that's 16 films for $10. For that price, who cares that the Echo Bridge ones are all crap (and so are are quite a few of the others)?
Obviously I had to get the two Universal 4 horror movie marathon packs even though I already had half the films on them individually. That's another four films I can now sell at a yard sale and save two spaces on my DVD shelves.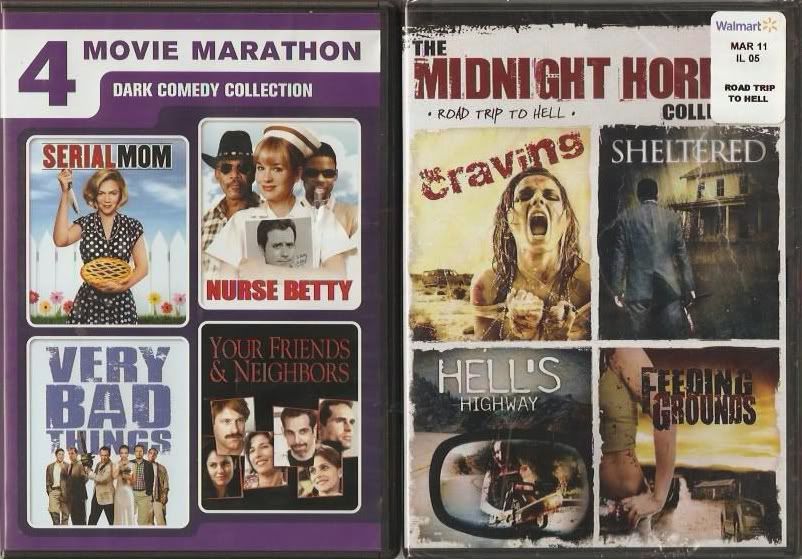 I bought the "Dark Comedy" pack just for "Serial Mom" and "Very Bad Things" as I have no intention of watching the others. The Echo Bridge pack was still sealed so I thought that I might as well have it for one day when I absolutely have nothing better to watch on TV or a freshly painted wall to watch dry.
For those of you wondering what I got for my birthday earlier this week, it was a bottle of Christian Brothers Honey Liqueur, a bottle of Red Cat wine, a bottle of Harvey's Bristol Cream sherry, a chocolate cat, 10 cans of Monster, a box of Gyro meat, and 50 DVD+Rs for burning Linux operating systems to as and when they are released.
I also bought myself another Echo Bridge "4 Sci-Fi Films Collector's Set" ("T-Force", "Lifepod", "Star Knight", "Hidden Agenda"), "Apt Pupil", "Strange Behavior" (1981), and "Feast 2: Sloppy Seconds". I'm sure you aren't interested in any of those though or the fact that I had a chicken jalfrezi for my birthday dinner.