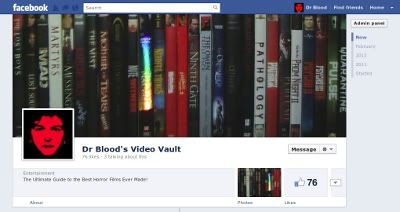 In case you didn't realise, I replaced my little Facebook group with a real page some time ago but I haven't really been promoting it.
If you want to keep up to date with my new posts on here, it's a useful alternative to the Google Friend Connect widget or Twitter especially if you spend a lot of time on Facebook.
The URL is www.facebook.com/DrBloodsVideoVault2
(www.facebook.com/DrBloodsVideoVault - without the "2" on the end - is for people who I already know, in case you wondered).
See you there!