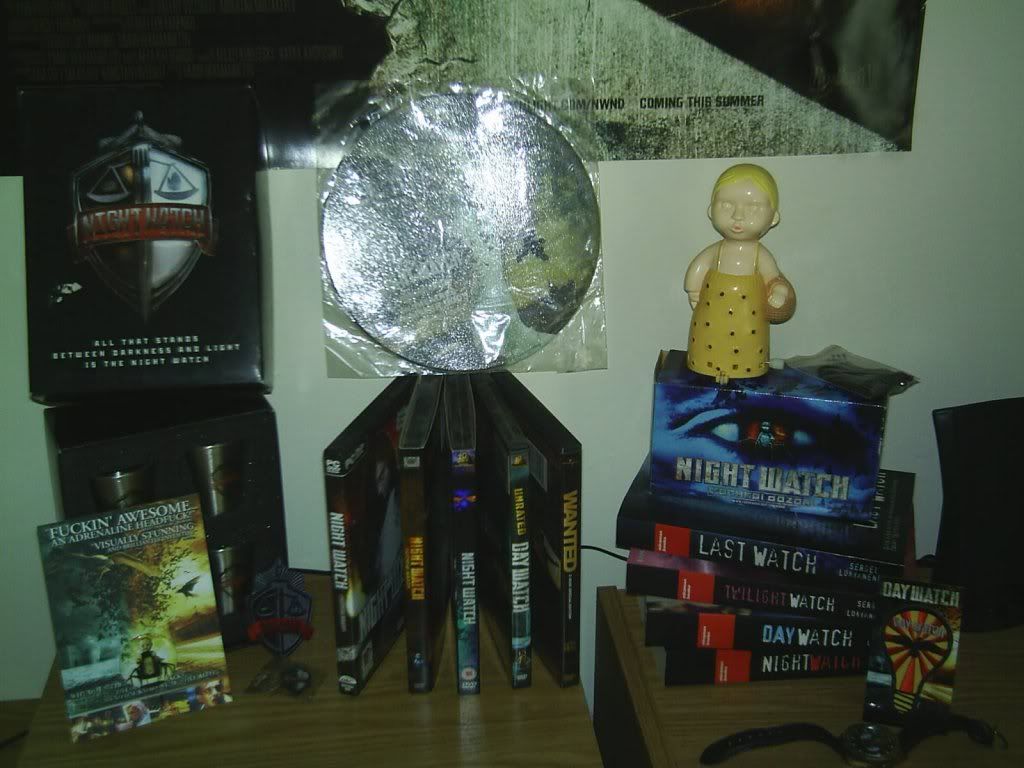 I know this isn't really horror (even though the movies were incorrectly marketed as such), but I took this photo for another site recently and thought that I might as well share it on here as well.
The big, shiny, round thing (which didn't photograph properly) is a Night Watch mousepad with crows which move inside it.
Apart from that, from left to right (and below the bottom of my Night Watch poster), I have:
Night Watch shot glasses (actually made out of metal not glass)
A Day Watch badge featuring Masha (the spider-doll)
A Night Watch iron-on shield patch and (below it) the lapel pin
The PC DVD game of Night Watch (I also have Night Watch Racing and Day Watch inside the box)
Night Watch US DVD
Night Watch (2 disc Special Edition) UK DVD
Day Watch (Unrated) US DVD
Wanted (2 disc set) US DVD - which is kind of the third part but not really
A wind-up Masha spider-doll (I took the legs back off because it scares me)
The four Sergei Lukyanenko novels (Night Watch, Day Watch, Twilight Watch and Last Watch) which are a little bit different to the films
A Day Watch (Gorsvet design lightbulb emblem) iron-on patch
A Russian Vostok watch (nothing to do with the films but it's a Russian "watch")
I haven't collected everything to do with the films as there are Day Watch shot glasses, a "flick story" notepad, a mini-Maglite with Night Watch written on it, and, an unofficial diecast model Gorsvet truck (which I know is not even the same kind of truck as the ones in the film) which I still have to find. I do, however, also have all the t-shirts and posters. I just didn't take a picture of them this time.
In case you've never seen "Night Watch" (2004) or "Day Watch" (2006), I highly recommend them. The sequel is 100 times better than the first one but you need both for the story as it was supposed to be a trilogy originally. The third part never happened, but the second movie tied everything up anyway.
I don't know what it is about these Russian fantasy films which appealed to me so much, but they just did. Some people hate them, call them "style over substance", or just don't get them at all.
No matter how many times that I've tried to write reviews of "Night Watch" or "Day Watch", I have never been able to get very far since there's just too much in them to do them justice.