And so ends one of the crappiest years for horror ever.
I haven't returned to horror blogging but with this post (and maybe one more to come), I'm just tidying up a few loose ends with a quick look back over 2011.
A few films were better than I expected them to be. I actually enjoyed "
Apollo 18
", "
Final Destination 5
", "
The Human Centipede II
", "
The Woman
", and even "
The Rite
" from way back at the start of the year. Who would have thought that a mixture of sequels and derivative-as-hell clones of better films would have made it to the top of my list? Unfortunately, that's all we seemed to have this year.
I hated "
Season of the Witch
", "
Attack the Block
", "
Contagion
", "
Hatchet II
", "
Hobo with a Shotgun
", "
Scream 4
" and "
Wake Wood
". My biggest disappointment was "ChromeSkull: Laid to Rest 2" which was so awful that I couldn't even bring myself to write a review of it. I didn't even watch "Insidious" until it got to Netflix and, likewise, couldn't be bothered to write anything about that lame "Poltergeist" ripoff either.
The others, including "
Paranormal Activity 3
", "
Red State
", "
The Thing
" (premake), and the various DVD releases of films which were actually made last year ("
The Ward
", "
Stake Land
" and "
Lost Boys: The Thirst
") were just sort of there apart from "
Trollhunter
" which was by far the best DVD release this year but hardly horror.
One film which didn't actually make an appearance on DVD but I ended up watching on YouTube instead was the Korean mystery/ghost story called "The Cat". It was definitely my favourite film from this year but, considering that everything else was basically a huge steaming pile of shit, it wasn't difficult for it to stand out.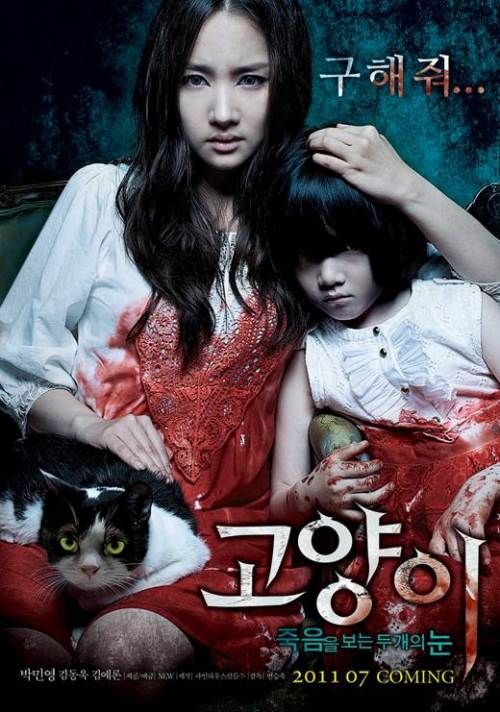 I really don't have anything else to add as far as horror films are concerned. Horror TV was good for as long as "American Horror Story" lasted but "The Walking Dead" bored me to tears with all its talk and no action.
In other news, I became addicted to Twitter and then gave up on it, finally moved house (into an actual house rather than yet another apartment), and sold 150 of my DVDs at a yard sale because, basically, they were all really crappy ones like "Killer Klowns from Outer Space" (which is allegedly getting a sequel which I have no interest in), "The Dunwich Horror", "Wrong Turn 3", and anything else which I would never, in my right mind, ever watch again.
I've officially given up on Netflix as I've watched everything that they had to offer horror-wise and put my membership on hold for the next three months (now that I've watched all their
film noir
selection as well). If I don't see any decent films appear in the next three months then I'll simply cancel Netflix altogether.
My New Year's resolutions are to spend more time with my cats and not waste my time on the internet. I also intend to eat better than I have been following frequent bouts of constipation followed by diarrhoea. Yes, I'm sure you wanted to know that but, since I'm writing this whole year off as completely shitty, it seems an appropriate way to end this post.
Happy 2012! I hope the Mayans get proven right.