I wish I could claim the
Chicken Ringstinger
recipe as my own, but it was actually created by Tim Dilks for his "Curry Monster" website back in the '90s. His website (which now appears to be gone) was featured on The Computer Channel's programme called "Chips with Everything" (a satellite TV show which was actually about computers not food).
Fortunately, this recipe is still floating around on the internet. The only changes I make to it are adding half a bottle of Dave's Insanity rather than Tabasco (which I find too vinegary), and I drink whatever brand of cola is available if I get thirsty because I don't like the taste (or lack of it) of water. It also works well with nan bread which you can now buy just about anywhere.
This is my ultimate Hallowe'en horror movie snack, but I take no responsibility whatsoever if you are silly enough to try it without building yourself up to it first.
Everything which follows the picture is Tim Dilk's original text which I have not altered.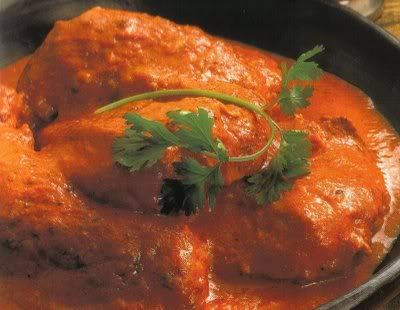 Chicken Ringstinger
A dish originating from just south of the North Circular, London. This dish is loved by all, but I'll take no responsibility if you're a bit too much of a big jessy and you end up on the toilet for days on end after eating it!
Serves 1-4
Ingredients:
2 lbs Chicken
6 Medium Onions, chopped
4 Cloves Garlic, chopped
8 tblspn Ghee or Vegetable Oil
2 Pints of water
24 fresh Habaneros Chillis, chopped
30 dried red chillies, crushed
2 tspn Red food colouring
Spices:
2 tsp ground turmeric
2 tsp ground cumin
2 tsp ground coriander
5 tsp ground hot chilli powder
1 tsp dried fenugreek leaves
A couple of capsicum pods
Optional (for the clinically insane only):
¼ bottle of tabasco sauce (try eating a teaspoon neat!)
¼ bottle Encona West Indian Hot Pepper sauce (mmm)
Mandatory:
12 large jugs iced water
15 rolls of Kleenex
1 week off work
1 ambulance
Method:
1. Fry the chicken, onions, garlic in some of the oil. Put all the spices in a bowl with a bit of water and mix to a paste. Fry this paste in a second pan for 10 minutes in some of the oil. Now combine all ingredients in a large vat or saucepan and simmer for 1-2 hours.
2. Add 3 tablespoons chilli powder and some more dried red chillies towards the end. Add a teaspoon Garam Masala 5 minutes before serving.
3. Leave to cool for 2 minutes before serving.
4. Serve on a bed of rice, followed by a bed in hospital.