Having just downloaded the beta version of Firefox 5 onto the Windows XP part of my laptop, I was disappointed to discover that Linux Mint doesn't have a version available for it yet. Since I've decided to try and make a bit more use of Windows XP while I'm waiting for somebody to fix the
ACPI problems
that I'm having with the new Linux kernel, even though this Microsoft operating system is nearly 10 years old now, I found that I could still keep it fairly up to date with free software.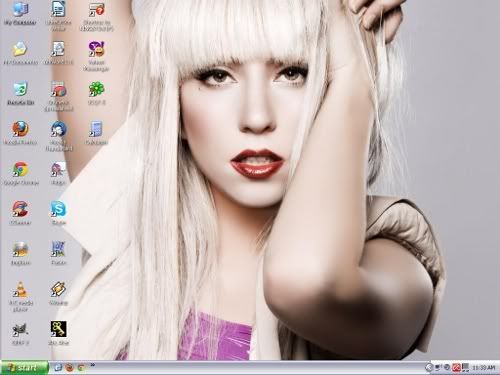 Apart from my Lady Gaga wallpaper, here's what I've downloaded recently to try and keep the environment as close as I can to my preferred Linux.
1.
VLC Media Player 1.1.9
Apart from Firefox, this is one of the first things which I download whenever I install a new operating system. For someone who watches a lot of movies like me, you can't beat VLC Media Player on any platform.
2.
AbiWord 2.8.6
Whereas some people need all the bells and whistles of OpenOffice or LibreOffice, I don't actually use a word processor all that often but, when I do, I like to have it pop-up as quickly as possible. AbiWord does more than I need it to do and it's very useful for creating the occasional blog.
3.
Gnumeric 1.10.14
When I need to open a spreadsheet, I add Gnumeric as well although I really have no great use for it otherwise. I once tried to make a database of my Mill Creek DVD collection but so far have never completed it. I was amazed to find that there was a Windows version of Gnumeric as I've always believed that it was a Linux only application.
4.
Firefox 5
If I'm ever forced to use a barebones version of Windows, I use Internet Explorer for just long enough to download Firefox. From then on Firefox is my default web browser. Most versions of Linux have Firefox installed already or this would be number one on my list. I've also tried Google Chrome/Chromium but it's just not as good yet.
5.
WinRar 4.01
I never have any use for this on Linux but as a user of WinZip for many years, I discovered that this was a much better alternative on Windows XP and I tend to need it almost instantly.
6.
Adobe Reader 10.0.1
Again this is not something which I'd fall over myself to use on Linux or a Mac because it's become so bloated but I still have to have it on Windows XP to view a lot of pdf attachments and ebooks. I can't believe it's got to version 10 as there's really no reason to download anything other than version 5.
7.
Skype 5.3.0.116
I've never really got into using Skype for the telephone side of things but it's a useful instant messenger at times. I could easily live without it but I find myself installing it on everything just in case I ever need it.
8.
Pidgin 2.7.11
Since I use all the instant messengers, it's nice to be able to access them all in one program. Although ICQ doesn't seem to work through Pidgin anymore, this is a much better alternative to bloated offerings such as Trillian (which I used to love more than anything up until a couple of years ago).
9.
The Gimp 2.6.11
I've never been able to work out how to use Adobe Photoshop as I was an avid user of Paint Shop Pro until it became completely useless to me on the newer versions of Windows. Because I got used to the GIMP's inclusion on Ubuntu, it's something that I still have to download. It does everything I need a graphic program to do and, of course, it's completely free. Seashore (a lighter version of GIMP) is the only decent alternative when I'm using a Mac.
10.
CCleaner 3.07.1457
I use this a couple of times after installing everything on Windows XP and then never run it again. It's a great program for tidying up the start menu entries and cleaning the registry but of little value to me otherwise.
I also tend to download a few programs which I don't think I've ever used but I install them anyway including FileZilla, Audacity, ThunderBird and ImgBurn. I don't use FTP for anything, no longer need to edit a podcast, only use web-based email, and have nothing to burn to CD or DVD. Of course, there's always the possibility that I might need these programs one day.
For anti-virus software, I use Avira or Avast depending on whichever version is getting the best reviews at the time though I used to be very happy with AVG and ZoneAlarm before they slowed my computers down to an unusable crawl.
What are your favourite free programs?