I was just looking on the
Mill Creek Entertainment
website to see if there were any of their horror movie packs which I've missed and it seems they have three new ones!
Blood Bath - 12 Movie Collection
Angst
Brush With Death, A
Chambermaid, The
Death on Demand
Demonic
Hallowed
Harvest of Fear
Haunting of Rebecca Verlaine, The
Red Riding Hood (2003)
Shadows of Death
Twisted Sisters, The
Uninvited
Bloodsuckers - 12 Movie Collection
Blood Bound
Blood Sucking Babes from Burbank
Hollywood Vampyr
Immortal
Lifeblood
Mrs. Amworth
Night
Shower of Blood
Strange Things Happen At Sundown
This Darkness
Vampire Hunter
Vampire's Tale, A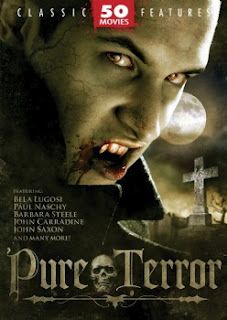 Pure Terror 50 Movie Pack
Amazing Transparent Man, The
Anatomy of a Psycho
Blood Sabbath
Bloody Pit of Horror
Crucible of Horror
Curse of Bigfoot
Death in the Shadows
Death Warmed Up
Devil's Nightmare, The
Devil's Possessed
Doctor Jekyll and the Werewolf
Don't Answer the Phone!
Double Exposure
Dungeon of Harrow, The
Eerie Midnight Horror Show, The
Embalmer, The
Evil Brain from Outer Space
Fangs of the Living Dead
Frankenstein 80
Grave of the Vampire
Green Eyes
Guru, the Mad Monk
Hands of Steel
Horror Rises from the Tomb
House by the Cemetery, The
House That Screamed, The
It Happened at Nightmare Inn
Keep My Grave Open
Manos: The Hands of Fate
Manster, The
Monstroid
Mutant
My Mom's a Werewolf
Night Evelyn Came Out of the Grave, The
Night Fright
Night of Bloody Horror
Night of the Blood Beast
Oval Portrait, The
Point of Terror
Sadist, The
Satan''s Slave
Scared to Death
Tell-Tale Heart, The
Terror Creatures from the Grave
Terror in the Jungle
They Saved Hitler's Brain
Thirsty Dead, The
Undertaker and His Pals, The
Vampire's Night Orgy
Werewolf of Washington, The
They even have a couple of double feature BluRays called "Total Terror" although you can get those titles in the "Blood Bath" collection anyway. Tom Savini stars in one of them ("Demonic").
Total Terror Vol. 1
Demonic
Uninvited
Total Terror Vol. 2
Brush With Death, A
Harvest of Fear
Apart from the movies in the "Bloodsuckers" pack and a couple in the "Pure Evil" collection, I don't think I've seen or even heard of any of them before. I'm loving the new artwork on the Mill Creek packs though.